Burton Joyce Cat Welfare & Kirkby Cats Home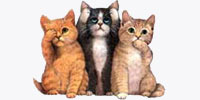 Contact
Tel: 01623 756592 or 01773 784586
Mobile: 07743 498907
Email: bjcats@gmail.com
Rehoming Cats & Kittens:
Nottinghamshire
Burton Joyce Cat Welfare working with Kirkby Cats Home, helping cats in Nottingham & surrounding areas.
BURTON JOYCE CAT WELFARE: Email us on: bjcats@gmail.com (please include a land-line phone number, thank you!)
KIRKBY CATS HOME: Tel: 01623 756592 (Kirkby Cats Home), 01773 784586 (Kirkby's Co-ordinator), 07743 498907 (Kirkby Mobile)
When contacting us, please mention that you found us through our Cat Chat Homing Page - thank you!
»» If you need to give up your cat please read 'Contacting Us' under the 'Information' tab below, and then EMAIL us, please do not ring, thank you!
Cats 1 to 10 of 12 (2 Pages)
There are no cats currently listed in this shelter.

CASPER - Give the nervous ones a chance!
Fri, 03 Jan 2014
Casper - From Wardrobe To Sofa

Casper had spent five of his six months at Kirkby, he'd never lived in a house and only knew the pen; he was nervous and had been constantly overlooked. Eventually someone came forward and gav

CONTACTING US (if you need to give up your cat)
Thu, 05 Sep 2013
Please read before you ring!

We are being inundated with calls for cats to come in; it is no joke the phone is ringing morning, noon and night bank holidays and weekends.

If you want to contact us with

MICROCHIPPING - why it's well worth it!
Thu, 05 Sep 2013
Some examples of why Microchipping is well worth it!

Over the past two weeks we have had three cats handed in all whom were microchipped. In all cases their owners had not reported them missing but when contacted were grateful for their return and fetched them immedia

OUTDOOR CATS - Need a Mouser..?
Thu, 05 Sep 2013
Got a vermin problem? Need a mouser? We have several willing volunteers!

From time to time, we have cats that would rather be 'mousing' around than hanging about on the couch. These cats have been spayed or neutered and have been wormed, and de-flead. If you h
Articles 1 to 4 of 4 (1 Pages)
Thank you for considering rescuing!
Cat Chat (Reg. Charity No. 1100649) provides these cat homing pages free of charge to rescue organisations across the UK and Ireland. We receive no secure funding, and public donations play a large part in funding the service we provide to shelters. Please visit » How to Support Cat Chat to find out how you can help, thank you!