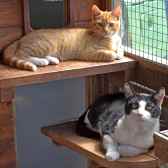 George and Matty are the most unlikely pairing! George is a 5 month old male ginger tabby and Matty is a 9 year old black and white male. These two came into rescue at different times. George was completely feral when he came into rescue and Matty came in to the rescue after his owner sadly passed away.
Matty was paired with George in the hope that feral George could observe Matty's affectionate side. And it worked a treat and within minutes of meeting each other we had a budding bromance brewing. They sleep together, eat together, clean each other and play non stop.
We are delighted to announce that George and Matty have been rehomed together after being spotted on Cat Chat.
All Animal Rescue, Southampton