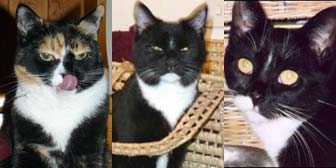 The really great news is that three of our most nervous cats, Doreen, Paris and Harvey have all been homed together, thanks to our Cat Chat page!
They've gone to live with a lovely couple who have experience with nervous cats, and who wanted to offer a home to cats who might otherwise not get a
chance. Needless to say, we are delighted!
Bromley & District Cat Rescue