!! HOMED !!
Austin was in the care of Maesteg Animal Welfare Society, Bridgend, South Wales for over two years.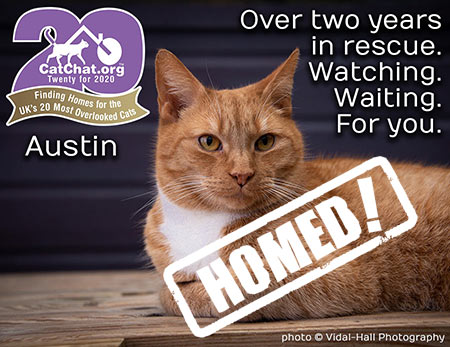 But thanks to your help, he's back to the comforts of a caring and permanent home. Although gorgeous looking, Austin was struggling to find anyone willing to take him on. He is a confident cat and will let you know if and when he has had enough!
Austin's new people, Cilla and Tony have experienced cats with his quirky characteristics and report "He's an amazing cat, bright, fun and so loving. We both love cats and when we heard his story through Cat Chat, we knew he was the one for us. At the moment he has the run of a bedroom, hallway and utility room and soon he will come into the lounge. He already loves our old dog Tilley and our other cat. We are so happy".
As part of Cat Chat's twentieth anniversary celebrations, all cats adopted from our campaign were homed with a parcel of goodies including HiLife Cat Food, a personalised cat collar from Kitty Collars and Feliway to help them adjust to their new life. All cats featured in the campaign were vet checked, neutered, vaccinated and microchipped before adoption.
Our Twenty for 2020 campaign ran throughout the year (and into early 2021) and helped many cats like Austin to find a new, loving and permanent home.
See More Cats at This Shelter...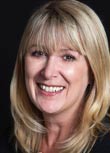 "One of the saddest things I see are cats that have been in homing centres for months, even years. They are well cared for but there is no substitute for a caring, permanent home. Sometimes they are overlooked because they have particular challenges, such as chronic health concerns, or they need a special kind of person in their life that accept them for the quirky cats they are! There are also times when a cat just doesn't get picked – no particular reason but equally sad.

I fully support the endeavours of Cat Chat to give the overlooked cats a voice. Please help these cats by offering a home, whether it's a place on your sofa or a warm barn or shed for those that prefer to view us from a distance."

Vicky Halls, Cat Behaviourist & Author