!! HOMED !!
Fern & Joy had been in the care of Plymouth Cat Rescue, Devon for over four years.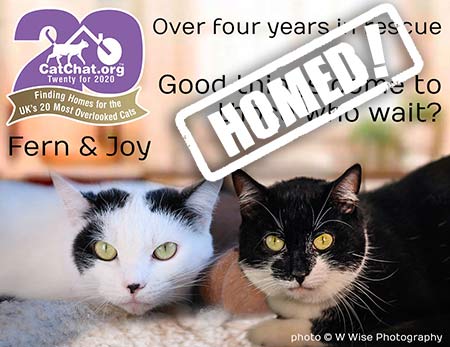 Thanks to your help, country girls Fern and Joy have at last found their perfect home in rural Devon.
The rescue knew that these shy but smart sisters would soon adapt to a new style of living, and whilst they love their creature comforts, they also longed for access to the great outdoors. They were spotted on our campaign by someone with the perfect home to offer, and so their next chapter began.
After a week in their new home near Honiton, the shelter told us "Fern and Joy are still a little nervous and shy but they are settling in." After having been in care since kittens, these independent girls are bound to flourish in their new environment, with so many new freedoms to look forward to!
As part of Cat Chat's twentieth anniversary celebrations, all cats adopted from our campaign were homed with a parcel of goodies including HiLife Cat Food, a personalised cat collar from Kitty Collars and Feliway to help them adjust to their new life. All cats featured in the campaign were vet checked, neutered, vaccinated and microchipped before adoption.
Our Twenty for 2020 campaign ran throughout the year (and into early 2021) and helped many cats like Fern & Joy to find a new, loving and permanent home.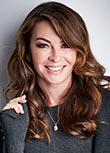 "Cat Chat is a real lifeline to rescues throughout the UK and Ireland and I'm pleased to be able to help them with their campaign being held throughout the year. 'Twenty for 2020' aims to identify cats that have spent way too long in rescue.

Shy cats, sensitive cats, scaredy cats! Some cats just don't sell themselves to potential adopters but are nevertheless, truly deserving of a life free of the confines of a rescue pen. By highlighting these cats to a greater audience, we hope to increase the chances of finding these most deserving cats a home where they can flourish. And often that's all it takes. A little care and attention in a safe place that they can make their own."

Suzi Perry, television presenter