!! HOMED !!
Rachel had been in the care of RSPCA Macclesfield, South East Cheshire & Buxton for a year and a half.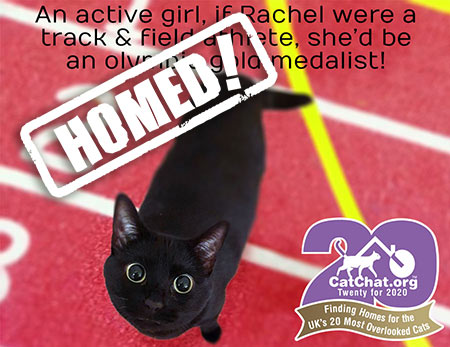 Active, characterful Rachel has at last found her ideal home with her ideal people. Due to her somewhat 'quirky' nature, the rescue took it slowly, by arranging a series of 'safely distanced' bonding sessions over several weeks, during the lockdown period.
We were delighted to hear that after only a few days in her new home, all is working out fine. After having been abandoned by her previous family, Rachel dreamed of a loving, permanent home, and to be able to live her life to the full. Now she has has acheived her goal, and is already taking 'first place' in her new home. Her adopters said: "We are so lucky to have her and she's already settling really well. She waits outside our bedroom every morning to greet us with happy chirps and meows."
As part of Cat Chat's twentieth anniversary celebrations, all cats adopted from our campaign were homed with a parcel of goodies including HiLife Cat Food, a personalised cat collar from Kitty Collars and Feliway to help them adjust to their new life. Rachel received lots of attention via our campaign, although fate stepped in, and her adopter found her simply via a fortunate phone call. Rachel still received her parcel of goodies of course; and we are so pleased for her!
Our Twenty for 2020 campaign ran throughout the year (and into early 2021) and helped many cats like Rachel to find a new, loving and permanent home.
See More Cats at This Shelter...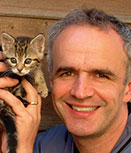 "I am delighted to support Cat Chat and their important 'Twenty for 2020' campaign. The 20 most overlooked cats in UK rescue, deserve to be taken out of shelters and into good homes, and that's exactly what this campaign will achieve.

Cats are sentient creatures, just like us, and they can make such wonderful companions. Sadly, they are often misunderstood: a badly behaved cat is more likely to be a badly misunderstood animal than an inherently difficult creature. Just as with human companions, "every old sock finds an old shoe": one person's challenging pet is another's perfect puss. I know that my own cats add an immense note of calm, pleasure and fulfillment to my life, and I'd encourage everyone to give cat ownership a go."

Dr Pete Wedderburn BVM&S CertVR MRCVS, veterinarian and writer