!! HOMED !!
Sugar & Spice had been in the care of Sunshine Cat Rescue, near Burford, Oxfordshire for over four years.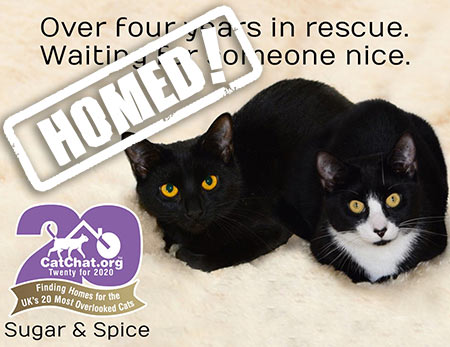 After being in rescue virtually their whole lives, these inseparable siblings have at last found a wonderful, semi-rural home, ideal for their needs. Being found as abandoned youngsters, they were neither street-wise ferals, nor likely to become cuddle monsters! Sugar & Spice are the perfect example of 'inbetweeners', so often overlooked in rescue.
Sugar & Spice have been adopted by a kind, caring couple, who offered them a quiet home with the garden access they longed for. The rescue told us: "They have gone to a lovely home with plenty of space for them both, at the end of a close with fields at the back." We are really pleased for this deserving pair, and wish them a long and happy life.
As part of Cat Chat's twentieth anniversary celebrations, all cats adopted from our campaign were homed with a parcel of goodies including HiLife Cat Food, a personalised cat collar from Kitty Collars and Feliway to help them adjust to their new life. Sugar & Spice gained many admirers as a result of our campaign, but their eventual adopters found them via a different route. The pair still received their parcel of goodies of course!
Our Twenty for 2020 campaign ran throughout the year (and into early 2021) and helped many cats like Sugar & Spice to find a new, loving and permanent home.
See More Cats at This Shelter...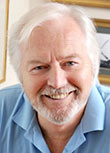 "I have the pleasure of being a patron - along with my mate Rick Wakeman - of Feline Care in Norfolk. We have always taken rescue cats as our pets and urge anyone thinking of giving that "forever home" to a cat to think seriously of one of the thousands of cats that through no fault of their own need a new home.

Cat Chat works with so many rehoming catteries around the country helping them put cat and new home together and they deserve your support. They and the cats and the rehomers deserve it, and you will find it rather rewarding too."

Ian Lavender, actor