!! HOMED !!
Rufus, in the care of Willows Cat Adoption Centre, South Shields for over three years.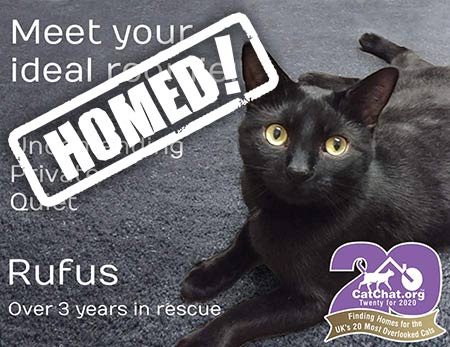 Thank you to all those who have offered Rufus a home but the rescue has decided that he will remain with his foster carer.
It is always difficult to find just the right home for a nervous cat like Rufus who was born feral and has never known any other life other than his current home. Any change to his environment would be extremely stressful for him and the stability he has now (at this point in time) is the best outcome.
Rufus arrived at the rescue at just six weeks of age, and has spent his entire life in care. Many people expressed an interest in this shy, independent boy, which shows just how many wonderful, good hearted people there are out there. However, after much careful consideration, Rufus's foster home has now become his forever home.
As part of Cat Chat's twentieth anniversary celebrations, cats featured on the campaign were homed with a parcel of goodies including HiLife Cat Food, a personalised cat collar from Kitty Collars and Feliway to help them adjust to their new life. All cats featured in the campaign were vet checked, neutered, vaccinated and microchipped before adoption.
Our Twenty for 2020 campaign ran throughout the year (and into early 2021) and helped many cats like Rufus to find a new, loving and permanent home.
See More Cats at This Shelter...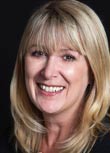 "One of the saddest things I see are cats that have been in homing centres for months, even years. They are well cared for but there is no substitute for a caring, permanent home. Sometimes they are overlooked because they have particular challenges, such as chronic health concerns, or they need a special kind of person in their life that accept them for the quirky cats they are! There are also times when a cat just doesn't get picked – no particular reason but equally sad.

I fully support the endeavours of Cat Chat to give the overlooked cats a voice. Please help these cats by offering a home, whether it's a place on your sofa or a warm barn or shed for those that prefer to view us from a distance."

Vicky Halls, cat behaviourist & author