!! HOMED !!
Prince had been in the care of Thanet Cat Club, Broadstairs for over two years.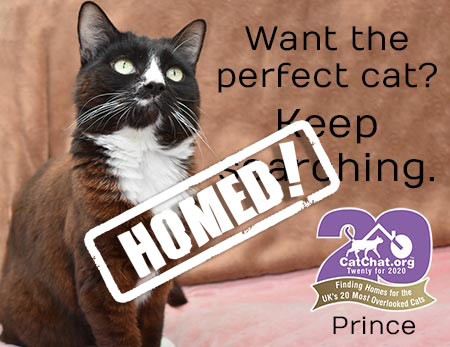 But thanks to being seen on Cat Chat, feisty Prince has found himself the perfect home. This beautiful, smart, amazing 'cat of a lifetime' rogue wanted to be the only cat in a child-free house. Experienced cat owners, Helen and Peter were able to offer him just that.
Whilst Prince could present a challenge to some, he is affectionate with those that he knows and trusts. After only a few days in his new home, the rescue told us: "His adopters love him and he settled more or less straight away. Prince adores his new humans, and it's as if he has always lived with them!"
As part of Cat Chat's twentieth anniversary celebrations, all cats adopted from our campaign were homed with a parcel of goodies including HiLife Cat Food, a personalised cat collar from Kitty Collars and Feliway to help them adjust to their new life. All cats featured in the campaign were vet checked, neutered, vaccinated and microchipped before adoption.
Our Twenty for 2020 campaign ran throughout the year (and into early 2021) and helped many cats like Prince to find a new, loving and permanent home.
See More Cats at This Shelter...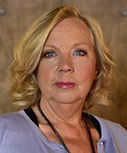 "I am proud to be supporting Cat Chat and their splendid 'Twenty for 2020' campaign. Throughout the year we will be highlighting the 20 most overlooked cats in UK rescue, helping them out of shelters and into homes.

Some of these cats have been in rescue care for several years. Seemingly invisible to adopters, due to their colour, age, health, nervousness or behaviour quirks. Often they are just craving someone who truly understands them and can transform their life. If you have space for a new feline friend, please take a look at these most deserving cats."

Deborah Meaden, businesswoman