!! HOMED !!
BT & Sabrina had been in the care of Cat Rescue West Wales for more than two years.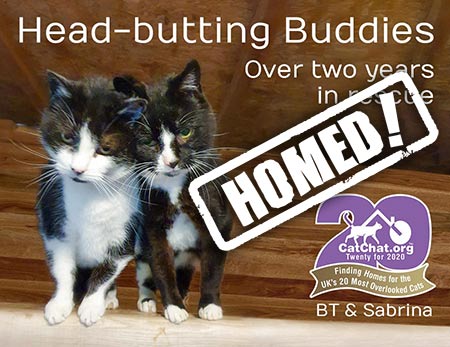 Thanks to your help, BT and Sabrina have found a lovely new home. The rescue told us: "Thanks so much for helping to get them homed. We are so pleased for them after such a long time in rescue, finding a wonderful home together".
At just 5 and 7 years of age, BT and Sabrina became great friends when they met at the rescue a couple of years ago. These pretty girls soon started to sleep and play together, and would often sweetly headbutt to show their affection to each other. That's the equivalent of humans hugging!
Now, in their new home, they will be helping each other to settle in. As the cute couple were in care for so long, they may be a little elusive at first, but we've no doubt that their lucky new owner will soon be the recipient of their very own head butts!
As part of Cat Chat's twentieth anniversary celebrations, all cats adopted from our campaign were homed with a parcel of goodies including HiLife Cat Food, a personalised cat collar from Kitty Collars and Feliway to help them adjust to their new life. All cats featured in the campaign were vet checked, neutered, vaccinated and microchipped before adoption.
Our Twenty for 2020 campaign ran throughout the year (and into early 2021) and helped many cats like BT & Sabrina to find a new, loving and permanent home.

See More Cats at This Shelter...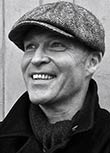 "I want to wish Cat Chat all the very best for 2020 and beyond. I am incredibly impressed by the passion and dedication of everyone involved with this wonderful organisation and the regular news updates are an inspiration to all animal lovers.

Highlighting the plight of the most overlooked cats in rescue to get them into homes is a great challenge but these cats deserve home comforts as much as any.

Keep up the fantastic work!"

Rupert Fawcett, cartoonist and writer