!! HOMED !!
Toby had been the care of New Beginnings Cat Rehoming, Gateshead for 2 years.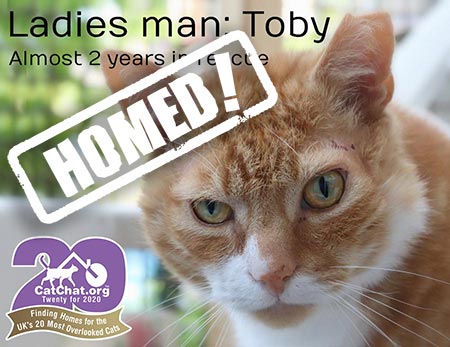 Thanks to your help, and his appearance on our campaign, ladies man Toby has found his ideal home, with a caring lady to give him all the love he deserves. His new owner told us:
"Toby seems to be settling in really well and adjusting quicker than I expected! He's such a lovely cat, I don't know why it's taken so long to find someone to give him a home."
His earlier years of a rough and ready lifestyle had taken its toll on Toby's health, and doctor's orders were for a quiet, indoor life and a special diet. A big softie at heart, seven year old Toby can now relax, play and enjoy his cosy new home.
Thanks to Toby's new 'mum' for sending this lovely photo (below) of Toby getting to grips with one of his new toys!
As part of Cat Chat's twentieth anniversary celebrations, all cats adopted from our campaign were homed with a parcel of goodies including HiLife Cat Food, a personalised cat collar from Kitty Collars and Feliway to help them adjust to their new life. All cats featured in the campaign were vet checked, neutered, vaccinated and microchipped before adoption.
Our Twenty for 2020 campaign ran throughout the year (and into early 2021) and helped many cats like Toby to find a new, loving and permanent home.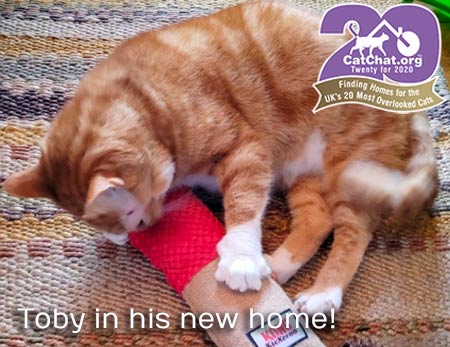 See More Cats at This Shelter...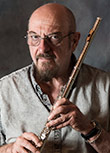 "Everyone - or at least around half of us - loves a cute and cuddly little kitten. But not so many of us have the same soft spot for more mature or unwanted cats, whether strays or from unsuitable homes.

We, the Anderson family, have reared 25 feral cats and kittens over the years. Some went to good homes with friends and family. Some became our life-long companions and part of family history. Some are still with us today.

If you can commit to providing a long-term home for a shelter cat, please visit the Cat Chat website. Remember - a pussy-cat friend for a day is a friend for life."

Ian Anderson, Jethro Tull