!! HOMED !!
Edward, in the care of Stopford Cat Rescue, Stockport for more than two years.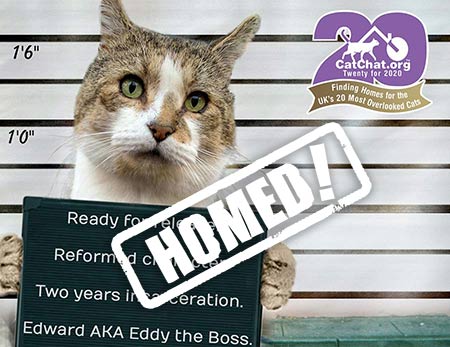 A reformed character, the days of Edward (AKA Eddy the Boss) skulking in the shadows of the ruthless underworld, hanging about with fellow feline felons, stealing, spraying, and murdering mice are well and truly over. Having previously evaded capture, an injured Edward was caught in the act late one night. He has since dutifully served his sentence, and it was hoped that he would now be ready to be reintegrated back into society with a new home.
Unfortunately, Edward became unwell towards the end of 2020. He has been receiving the best care, but has continued to have recurring health problems. So, with his best interests at heart, Stopford Cat Rescue decided that Edward should to stay where he is, and they will care for him for the rest of his days.
As part of Cat Chat's twentieth anniversary celebrations, all cats adopted from our campaign were homed with a parcel of goodies including HiLife Cat Food, a personalised cat collar from Kitty Collars and Feliway to help them adjust to their new life. All cats featured in the campaign were vet checked, neutered, vaccinated and microchipped before adoption.
Our Twenty for 2020 campaign ran throughout the year (and into early 2021) and helped many cats like Edward to find a new, loving and permanent home.
See More Cats at This Shelter...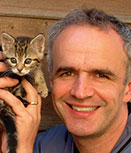 "I am delighted to support Cat Chat and their important 'Twenty for 2020' campaign. The 20 most overlooked cats in UK rescue, deserve to be taken out of shelters and into good homes, and that's exactly what this campaign will achieve.

Cats are sentient creatures, just like us, and they can make such wonderful companions. Sadly, they are often misunderstood: a badly behaved cat is more likely to be a badly misunderstood animal than an inherently difficult creature. Just as with human companions, "every old sock finds an old shoe": one person's challenging pet is another's perfect puss. I know that my own cats add an immense note of calm, pleasure and fulfillment to my life, and I'd encourage everyone to give cat ownership a go."

Dr Pete Wedderburn BVM&S CertVR MRCVS, veterinarian and writer