!! HOMED !!
Carol and Tico had been in the care of Furry Tails Feline Welfare, Blackpool for more than 7 years.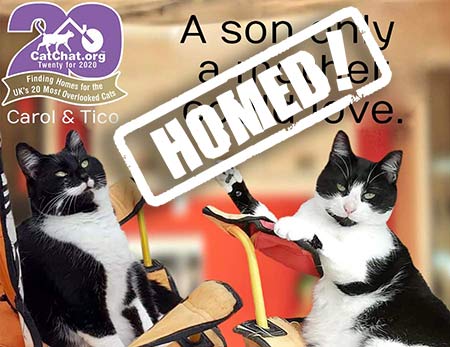 Thanks to your help, Carol & Tico have finally found their perfect home. Furry Tails Feline Welfare told us: "Brilliant news - Carol & Tico went to their forever home on Saturday. The lady is lovely, and well aware of how "skitty" Tico is but she lives in a quiet house with no children. We are all absolutely over the moon as you can imagine and want to thank you for your brilliant write up as that is what attracted her along with the pictures. After over 7 years we waved them off with a little tear in our eyes. We have already had pictures of them in their new home, and they are going to be just fine."
Almost eight years ago, Carol came into rescue with her kittens. Whilst the other kittens then went off to new homes, mummy's boy Tico stayed firmly tied to her apron strings. Carol enjoys hanging out with humans, but Tico... not so much; like a socially awkward teenager he woud only engage when food appeared. However when their new human came to visit, the shelter told us "Tico even let her stroke him which isn't like him at all. It just goes to show there is a loving home for every cat."
As part of Cat Chat's twentieth anniversary celebrations, all cats adopted from our campaign were homed with a parcel of goodies including HiLife Cat Food, a personalised cat collar from Kitty Collars and Feliway to help them adjust to their new life. All cats featured in the campaign were vet checked, neutered, vaccinated and microchipped before adoption
Our Twenty for 2020 campaign ran throughout the year (and into early 2021) and helped many cats like Carol & Tico to find a new, loving and permanent home.

See More Cats at This Shelter...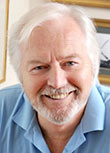 "I have the pleasure of being a patron - along with my mate Rick Wakeman - of Feline Care in Norfolk. We have always taken rescue cats as our pets and urge anyone thinking of giving that "forever home" to a cat to think seriously of one of the thousands of cats that through no fault of their own need a new home.

Cat Chat works with so many rehoming catteries around the country helping them put cat and new home together and they deserve your support. They and the cats and the rehomers deserve it, and you will find it rather rewarding too."

Ian Lavender, actor