!! HOMED !!
Oakley and Sable had been in the care of RSPCA Tunbridge Wells & Maidstone Branch for almost a year and a half.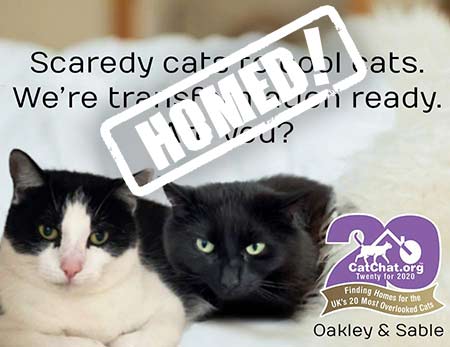 After being in rescue care for almost 18 months, Oakley & Sable have finally found their perfect people. There isn't much in life that can beat the joy of previously standoffish cats coming to sit next to you. Shy cats like these two may take longer to win over, but that makes it even more rewarding when your new friends decide to hang out with you, rub around your ankles, and wow... the delight when you hear those first purrs!!
The branch told us: "This lovely pair have finally found their forever home. They were actually found via our own website and not Catchat, but on behalf of all at the branch, thank you for your input and time to try and find these two lovely cats a home. Many thanks and keep up the good work!". We're delighted for Oakley & Sable, and hope that they are already getting their paws under the table.
As part of Cat Chat's twentieth anniversary celebrations, all cats adopted from our campaign were homed with a parcel of goodies including HiLife Cat Food, a personalised cat collar from Kitty Collars and Feliway to help them adjust to their new life. Oakley & Sable certainly had extra interest due to being on our campaign, but their eventual adopters found them on the rescue's own website. They did of course still receive their parcel of goodies!
Our Twenty for 2020 campaign ran throughout the year (and into early 2021) and helped many cats like Oakley & Sable to find a new, loving and permanent home.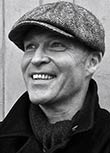 "I want to wish Cat Chat all the very best for 2020 and beyond. I am incredibly impressed by the passion and dedication of everyone involved with this wonderful organisation and the regular news updates are an inspiration to all animal lovers.

Highlighting the plight of the most overlooked cats in rescue to get them into homes is a great challenge but these cats deserve home comforts as much as any.

Keep up the fantastic work!"

Rupert Fawcett, cartoonist and writer