!! HOMED !!
Petal had been in the care of Orphan Annie's Cat Rescue, Basildon for over a year and a half.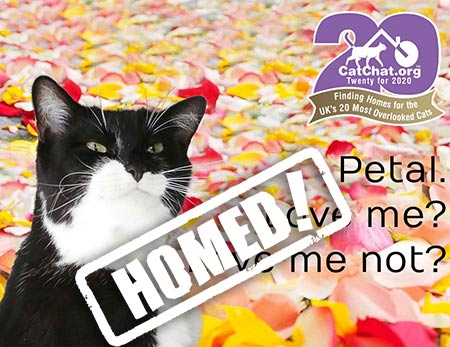 Thanks to your help, pretty Petal was seen on our campaign, and found the ideal, caring home. However no-one could have predicted what would happen next! When her adopters visited her she had instantly taken to them, loving their attention. So, when the rescue dropped her off a week later all should have been perfect. But Petal had other ideas...
The shelter told us: "The instant we left she hid under the table and stayed there. She became withdrawn and stressed, refusing to eat or use the tray. She wouldn't settle no matter how much kindness and love she was shown. After a while we all agreed that it wasn't working and she needed to come back here. We hadn't realised just how bonded she'd become to us here, and nobody else could take our place. She's now become a permanent addition to our family and follows us around all day, not leaving our side!"
So Petal is now settled, having in the end made her own choice!
As part of Cat Chat's twentieth anniversary celebrations, all cats adopted from our campaign were homed with a parcel of goodies including HiLife Cat Food, a personalised cat collar from Kitty Collars and Feliway to help them adjust to their new life. All cats featured in the campaign were vet checked, neutered, vaccinated and microchipped before adoption.
Our Twenty for 2020 campaign ran throughout the year (and into early 2021) and helped many cats like Petal to find a new, loving and permanent home.

See More Cats at This Shelter...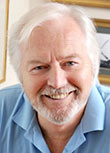 "I have the pleasure of being a patron - along with my mate Rick Wakeman - of Feline Care in Norfolk. We have always taken rescue cats as our pets and urge anyone thinking of giving that "forever home" to a cat to think seriously of one of the thousands of cats that through no fault of their own need a new home.

Cat Chat works with so many rehoming catteries around the country helping them put cat and new home together and they deserve your support. They and the cats and the rehomers deserve it, and you will find it rather rewarding too."

Ian Lavender, actor