!! HOMED !!
Clara had been in the care of Bury's Stray Cat Fund, Suffolk for 1 year.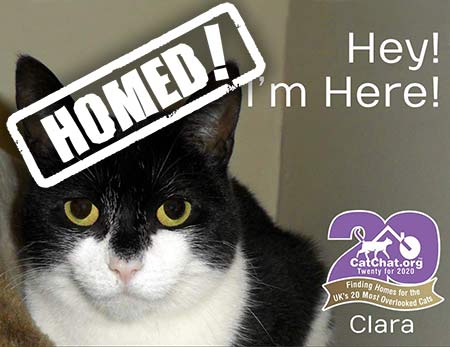 Pretty, super-shy Clara has at last found the quiet, calm and experienced home she needed. Clara had a mysterious past, having been found over 100 miles from where she was microchipped, and no owner was ever traced. She then spent a year in rescue waiting for just the right person to understand her needs.
Four year old Clara isn't a lap cat, and needed someone willing to give her plenty of time to settle in, and accept that she might - or might not - one day join them on the couch! After a couple of weeks in her new home, her new owner told us: "Clara is doing very well now". We are sure this sweet girl will continue to grow in confidence, now that she has her perfect forever home.
As part of Cat Chat's twentieth anniversary celebrations, all cats adopted from our campaign were homed with a parcel of goodies including HiLife Cat Food, a personalised cat collar from Kitty Collars and Feliway to help them adjust to their new life. Clara had several adoption enquiries via our campaign, although her eventual adopter came via a different source. Clara still received her parcel of goodies of course; and we are delighted for her!
Our Twenty for 2020 campaign ran throughout the year (and into early 2021) and helped many cats like Clara to find a new, loving and permanent home.
See More Cats at This Shelter...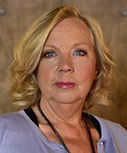 "I am proud to be supporting Cat Chat and their splendid 'Twenty for 2020' campaign. Throughout the year we will be highlighting the 20 most overlooked cats in UK rescue, helping them out of shelters and into homes.

Some of these cats have been in rescue care for several years. Seemingly invisible to adopters, due to their colour, age, health, nervousness or behaviour quirks. Often they are just craving someone who truly understands them and can transform their life. If you have space for a new feline friend, please take a look at these most deserving cats."

Deborah Meaden, businesswoman