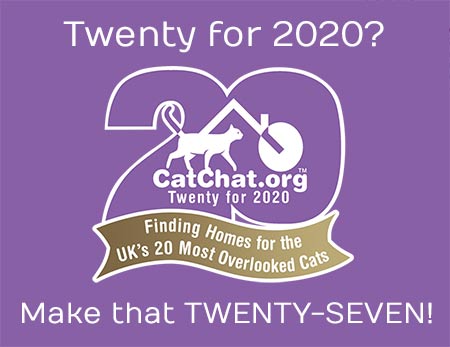 We're inviting you to celebrate all these wonderful cats who are now out of rescue and happily adopted. Between them, they had spent over 70 years in care.
Thanks to your support, the dedicated rescues, the shares, retweets, and likes, all of these cats are now enjoying life in new permanent homes.
The feedback we have had from their delighted new owners says it all...
Toby had been at New Beginnings Cat Rehoming in Gateshead for over 2 years.
His delighted new owner said: "Toby seems to be settling in really well and adjusting quicker than I expected! He's such a lovely cat"
Jenna had been with Cat Action Trust 1977, Doncaster South for over 3 years.
Her new owner explained: "Jenna has claimed all toys and furniture as hers! She is a little sweetheart and is becoming more friendly every day."
Austin had been at Maesteg Animal Welfare Society in Wales for over 2 years.
His smitten new owners told us: "He's an amazing cat, bright, fun and so loving. He loves our old dog Tilley and our other cat. We are so happy."
But we're not stopping there. Dotty and Elsa were the last cats to join the campaign and sadly, they are still looking for a home. We're keen to do more promotions for them and many other overlooked cats this year so look out for our special posts throughout 2021.
We'd like to say a big THANK YOU to all those who shared, tweeted and posted about our 'Twenty for 2020' campaign. Your help enabled twenty-seven deserving, long-stay cats to find their forever homes.