---
Patrons
---
Sir Roger Gale MP
Pictured right is our first Patron, Sir Roger Gale MP, with one of his rescue cats. Sir Roger has supported Cat Chat for many years, even before we became registered as a Charity. Roger is always ready and willing to help and advise, somehow managing to fit us into his incredibly busy schedule whenever we need his expertise.
"I have supported Cat Chat since its early days. The number of rescued cats they help each year is outstanding, and the continuing success of this valuable Charity is hugely important to cat rescue in this country." Sir Roger Gale MP
Both Sir Roger and his wife Suzy are ardent animal lovers, and campaign tirelessly on their behalf. Find out more about Sir Roger here: www.rogergale.co.uk
---
Suzy Gale
Suzy became a Cat Chat Patron in 2013 after many years of supporting us informally alongside her husband Roger. Suzy has always loved animals and the Gale household includes numerous rescue cats and their two (huge) Newfoundland dogs. Suzy has worked in animal welfare for many years both at home and abroad, initially for Parliament's All Party Animal Welfare Group and then, in 2007 founded her own charity, Animals Worldwide - an important global initiative bridging animal welfare and tourism.
"With increasingly large numbers of abandoned and homeless cats, and with rescue centres across the country bursting at the seams, the work of Cat Chat is ever more important. As a Patron I look forward to continuing my support of their already impressive achievements and to do all I can to help them secure a more hopeful future for all rescued cats". Suzy Gale
---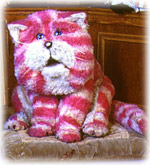 Bagpuss
When we became a registered Charity in 2003, Bagpuss was pursuaded by his close person-friend, the late Oliver Postgate, to become a Patron. Since Oliver's death in 2008, his son Daniel Postgate continues to assist Bagpuss in his role as Cat Chat Patron.
"I really am a most fortunate old cat! This is because, being imaginary, I am never cold or hungry, and always have lots of friends to keep me company and look after me. So it worries me very much to realise that so many real, live, beautiful cats are left lonely, homeless and unloved, when I know that there are really plenty of people in the world who would be glad of their company and be happy to be their bagpuss paw printfriends. That is why I would like to commend to you, my friends, this most feline website: www.catchat.org, where they will help you to find a cat-friend, if you are a person, or a person-friend, if you are a cat."

Bagpuss
Oliver Postgate:
Find out more here » Oliver Postgate Remembered
---
Famous Friends
---
Tom Cox
We are delighted to have author and self-confessed 'Cat Man' Tom Cox as a Cat Chat Friend. Tom is noted for his humorous books about cats, music and golf, his most successful book to date being "Under the Paw: Confessions of a Cat Man", a comic memoir of his life... as dominated by cats. Tom is also a respected columnist, having written for several national newspapers including The Guardian, The Financial Times and The New Musical Express.
"How can there be so many cats – really surprisingly plush-looking cats, who would probably happily sit on your knee for up to three hours without budging – languishing in cages, unwanted? Rather than simply rage silently at an unfeeling universe, I am supporting Cat Chat in their aim to make every cat a wanted cat." Tom Cox
Find out more about Tom here: www.tom-cox.com
---
Susan Hampshire
As well as being one of the UK's most admired actresses, Susan Hampshire is also known for her love of animals and cats in particular, so Cat Chat is delighted to welcome her as one of our special Friends. Susan's starring roles in a range of popular films and TV series from The Forsyte Saga to, most recently, Monarch of the Glen have given enormous pleasure to millions of viewers. Despite being a life-long dyslexia sufferer Susan has also become an accomplished author whose books include an autobiography, books on gardening and a series of children's stories. She was awarded an OBE in 1995 for her work with dyslexia charities.
"I have always been a cat lover and am very pleased to be one of Cat Chat's supporters – their work in helping so many abandoned cats to find homes is very important. The idea of any animal suffering homelessness or cruelty is abhorrent to me. Perhaps you can consider rehoming a cat and if so, I'm sure that Cat Chat can help you find that special one..." Susan Hampshire
---