What is AmazonSmile?
When you shop online using the AmazonSmile website, you will find the same great products, prices and service as those on Amazon. The big difference is, each time you shop, Amazon will donate 0.5% of the sale price to your chosen charity, and it won't cost you an extra penny!
Millions of products on AmazonSmile are eligible for donations. All eligible products are marked 'Eligible for smile.amazon.co.uk' on their product detail pages.
AmazonSmile means you can support Cat Chat when shopping online, at no cost to you!
Ready to get started?
Use the same account logins that you use for amazon.co.uk, or create an account if you don't have one.
On your first visit to smile.amazon.co.uk please select Cat Chat as your chosen charity, by filling in the 'Select a charity to start shopping' box. Then, whenever you login again, AmazonSmile will remember your choice.
TIP! Add smile.amazon.co.uk to your Favourites or Bookmarks to make it even easier to return next time!
---

Grateful Purrs of Thanks to all who already support Cat Chat through AmazonSmile!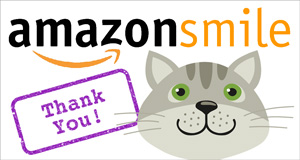 ---