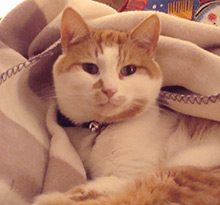 Tiger – our boy who died a year ago today.
We still miss you and your special sweetness. How you couldn't meow so squeaked instead. How you sat in the garden surrounded by birds and never chased them. The time you got stuck under the wheel arch of our neighbours' car and they had to call the fire brigade. The numerous medications you needed in your later years. The decision we had to make to end your pain was very hard, but we realise it was for the best.
We hope you are enjoying yourself with your sisters at Rainbow Bridge.