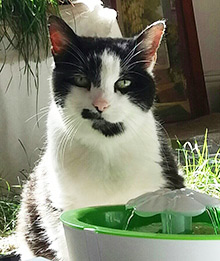 May you always live in sunshine...
Ella, passed on 11 June 2019, aged 21. Rescued at 17 - a sweet, brave, lovely, furry friend. Ella had a miaow or squeak for everything. She'd greet me with an enormous squawk when I got home. I'd I walk towards her with arms outstretched and she'd miaow loudly twice before I scooped her up... Not a lap cat, but always sat close. Loved being stroked under her chin, where she had a black splodge... So sorry for the way you passed, early that June morning. Thank you for the love and fun.
Remembered and much missed every day...