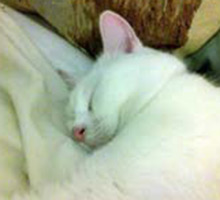 My Darling Beautiful Boy Nov 2012 - Nov 2014
You were taken too early my darling boy, Mommy is sorry she was unable to take you home to rest but a part of you will always be in my heart. Mommy misses your little cheeky face, character and your zest for life. The thought of not being able to touch, hear, see, smell and feel you is heartbreaking.
But I know we will meet soon with you teasing Chika and eating your yummy tuna, play hard and remember Mommy loves and misses you.
Mommy, Nanuk, Minoes and Kiki