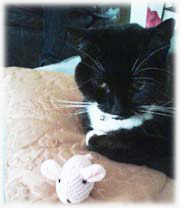 Our beautiful Kayti sadly taken from us on 17 August 2015 after a sudden mystery illness.

Thank you for the 7 wonderful years we had with you sharing your friendship and love, you were always there for us and helped me through my own illness.
We miss you so much everyday now and forever our Angel you were like a daughter to us.
Lots of love and now it is time for you to join Mitzi and play together in the sun at Rainbow Bridge.
We love you so much Joanne and Paul xxxx