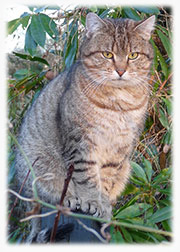 Prince among Cats
c. 2001 - 27/12/2015
Tommy, from the moment you strolled into our lives you won our hearts. Dear, smiling boy with your big, Charlie Chaplin feet and your purr like a little tractor, we miss you so much. We knew you were losing your brave battle with CKD, but never thought you would leave us that way. I pray you are reunited with your friend, Rosie dog and you will play happily at the Bridge until we meet again,
your loving Mummy, Daddy (Sue and Dave) brother and sisters, Bobby, Willow, Purdy and Grace.