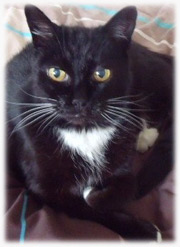 My Darling Kitten: 1993 - 2012
Dear Kitten, I love you and my heart is breaking. You have been such a comfort and friend to me since Mum died and I will forever be grateful. I will miss you so much.
I hope you have found Biscuit, Sam, Whisky and Mum at Rainbow Bridge.
Until we meet again, sweet dreams my baby,

All our love Mummy & Mischa xxxxxx