!! RESERVED !!
Fern & Joy have been in the care of Plymouth Cat Rescue, Devon for over four years. They could be rehomed together or separately.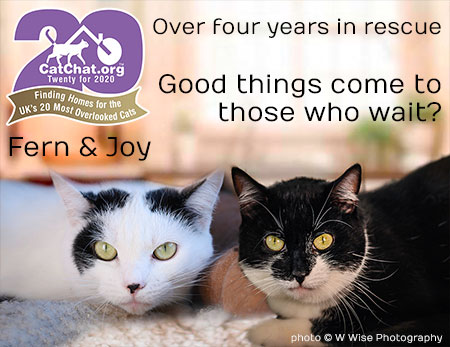 Born in a barn, these country girls are now much more accustomed to creature comforts and are keen to get into a home (or homes) of their own. Found as kittens, they have spent their entire lives in care. But they remember! They know there is much more to see, smell and enjoy in the great outdoors.
Appreciative of patience, and bound to do best in an adult household, Fern and Joy are shy but clever cats and will soon adapt to a new style of living. Already have pets? Great! Tell the rescue and they'll let you know if they'd be a good match. Busy schedule? No problem. This pair can happily entertain themselves ... although you may soon find, the novelty of a warm lap becomes just too tempting for these sociable sisters. Only looking for one cat? The girls are independent enough to be homed separately.
Go on ... make the call to find out more.
!! Fern & Joy are now 'Reserved' for a home !!
As part of Cat Chat's twentieth anniversary celebrations, Fern and Joy will be homed with a parcel of goodies including HiLife Cat Food, personalised cat collars from Kitty Collars and Feliway to help them adjust to their new life. All cats featured in the campaign are vet checked, neutered, vaccinated and microchipped before adoption.
Plymouth Cat Rescue rehome across Devon. Fern and Joy not in your area? Help them to find someone who is. Please share this page!
To ask about Fern and/or Joy, please call the rescue on: 07597 618300 or Email This email address is being protected from spambots. You need JavaScript enabled to view it. and mention you saw Fern and Joy on Cat Chat's 'Twenty for 2020' campaign, thank you!
See More Cats at This Shelter...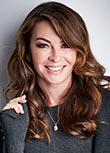 "Cat Chat is a real lifeline to rescues throughout the UK and Ireland and I'm pleased to be able to help them with their campaign being held throughout the year. 'Twenty for 2020' aims to identify cats that have spent way too long in rescue.

Shy cats, sensitive cats, scaredy cats! Some cats just don't sell themselves to potential adopters but are nevertheless, truly deserving of a life free of the confines of a rescue pen. By highlighting these cats to a greater audience, we hope to increase the chances of finding these most deserving cats a home where they can flourish. And often that's all it takes. A little care and attention in a safe place that they can make their own."

Suzi Perry, television presenter