Jenna has been in the care of Cat Action Trust 1977, Doncaster South branch for three years.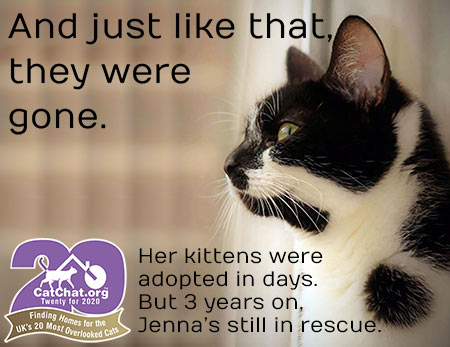 An abandoned young mother, Jenna arrived into the rescue heavily pregnant. Young, pretty, friendly and playful, she was a terrific mum and her adorable kittens were soon adopted. It's been nearly three years now since her little ones left. Does she dream of them all grown up, secure in their own homes, sleeping on beds, being stroked by their owners, playing in their gardens with leaves and bugs?
So much must have changed for them, yet Jenna is still in the very same place. Watching, waiting and wondering. Will she ever have a home she can call her own? A calm place, a warm spot to sit in a garden; Jenna would also be happiest as an only pet. Affectionate, good-natured and more than ready to be a devoted companion, could Jenna be the cat for you?
Surely it's time for her to have her dream come true..?
As part of Cat Chat's twentieth anniversary celebrations, Jenna will be homed with a parcel of goodies including HiLife Cat Food, a personalised cat collar from Kitty Collars and Feliway to help her adjust to her new life. All cats featured in the campaign are vet checked, neutered, vaccinated and microchipped before adoption.
Doncaster branch of Cat Action Trust 1977 rehome in and around South Yorkshire. Jenna not in your area? Help her to find someone who is. Please share this page!
To ask about Jenna, please call the rescue on: 07940 792205 or Email This email address is being protected from spambots. You need JavaScript enabled to view it. and mention you saw Jenna on Cat Chat's 'Twenty for 2020' campaign, thank you!

Coronavirus (CORVID-19) note: Whilst most shelters are unable to adopt out cats at this present time due to the current restrictions, you can still register your interest in Jenna by contacting the shelter via phone or email, as above.
See More Cats at This Shelter...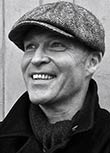 "I want to wish Cat Chat all the very best for 2020 and beyond. I am incredibly impressed by the passion and dedication of everyone involved with this wonderful organisation and the regular news updates are an inspiration to all animal lovers.

Highlighting the plight of the most overlooked cats in rescue to get them into homes is a great challenge but these cats deserve home comforts as much as any.

Keep up the fantastic work!"

Rupert Fawcett, cartoonist and writer