!! HOMED !!
Jenna had been in the care of Cat Action Trust 1977, Doncaster South branch for three years.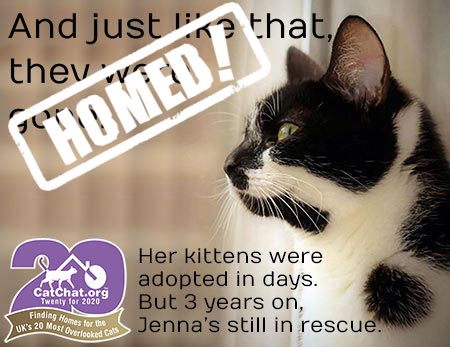 Thanks to your help Jenna has at last found her perfect home. An abandoned young mother, Jenna arrived into the rescue heavily pregnant. Young, pretty, friendly and playful, she was a terrific mum and her adorable kittens were soon adopted. But three years on and Jenna was still waiting in rescue... until she was spotted on Cat Chat and our Campaign!
Now, Jenna too has a place to finally call home. Her smitten new owner told us: "Jenna is now starting to feel at home and has claimed all toys and furniture as hers! Her new favourite position is draping herself over the sofa arm. She is a little sweetheart and is becoming more friendly every day. I got my first full on purr today, can't wait till she feels settled enough to fall asleep on my knee".
As part of Cat Chat's twentieth anniversary celebrations, all cats adopted from our campaign are homed with a parcel of goodies including HiLife Cat Food, a personalised cat collar from Kitty Collars and Feliway to help them adjust to their new life. All cats featured in the campaign are vet checked, neutered, vaccinated and microchipped before adoption.
Our Twenty for 2020 campaign will run throughout the year and aims to help more cats like Jenna to find a new home. You can help by supporting our campaign. All you need to do is simply share our pages and posts on your social media so a much wider audience will see and read the stories of these fabulous felines. Together we can find them their perfect person.
See More Cats at This Shelter...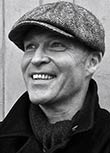 "I want to wish Cat Chat all the very best for 2020 and beyond. I am incredibly impressed by the passion and dedication of everyone involved with this wonderful organisation and the regular news updates are an inspiration to all animal lovers.

Highlighting the plight of the most overlooked cats in rescue to get them into homes is a great challenge but these cats deserve home comforts as much as any.

Keep up the fantastic work!"

Rupert Fawcett, cartoonist and writer