Rachel has been in the care of RSPCA Macclesfield, South East Cheshire & Buxton for a year and a half.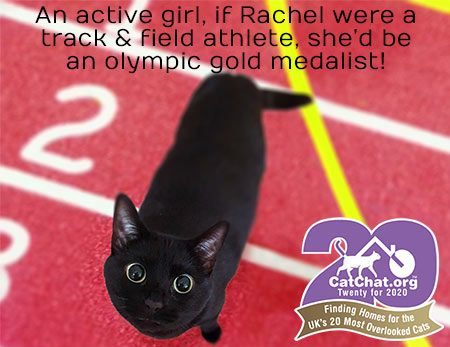 Having a bad day? Rachel will put a smile on your face! She's a curious cat both in her quirky character and inquisitive nature. Set to flourish in a home as an only pet, Rachel dreams of living her life to the full. An active girl, if she were a track and field athlete, she'd be an Olympic gold medalist. With no fear of heights, any tasty morsel left out on a counter is hers for the winning.
Owned a cat like Rachel before? Then you'll soon work out some terrific games to play whilst building her trust. In Rachel's world, this needs to be earned. Abandoned by her last family, without any food or water, she's lucky to be alive.
So ... on your mark, get set ... contact the rescue!
As part of Cat Chat's twentieth anniversary celebrations, Rachel will be homed with a parcel of goodies including HiLife Cat Food, a personalised cat collar from Kitty Collars and Feliway to help her adjust to her new life. All cats featured in the campaign are vet checked, neutered, vaccinated and microchipped before adoption.
RSPCA Macclesfield, South East Cheshire & Buxton home across most of Cheshire extending into Derbyshire to encompass Buxton. Rachel not in your area? Help her to find someone who is. Please share this page!
To ask about Rachel, please call the rescue on: 01625 669620 or Email This email address is being protected from spambots. You need JavaScript enabled to view it. and mention you saw Rachel on Cat Chat's 'Twenty for 2020' campaign, thank you!

Coronavirus note: Whilst the branch is unable to adopt out cats at this present time due to the current Covid-19 restrictions, you can still register your interest in Rachel by contacting the branch via phone or email, as above.

See More Cats at This Shelter...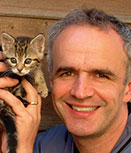 "I am delighted to support Cat Chat and their important 'Twenty for 2020' campaign. The 20 most overlooked cats in UK rescue, deserve to be taken out of shelters and into good homes, and that's exactly what this campaign will achieve.

Cats are sentient creatures, just like us, and they can make such wonderful companions. Sadly, they are often misunderstood: a badly behaved cat is more likely to be a badly misunderstood animal than an inherently difficult creature. Just as with human companions, "every old sock finds an old shoe": one person's challenging pet is another's perfect puss. I know that my own cats add an immense note of calm, pleasure and fulfillment to my life, and I'd encourage everyone to give cat ownership a go."

Dr Pete Wedderburn BVM&S CertVR MRCVS, veterinarian and writer