Swt (Soot) has been in the care of Freshfields Animal Rescue Centre, Caernarfon for over three years.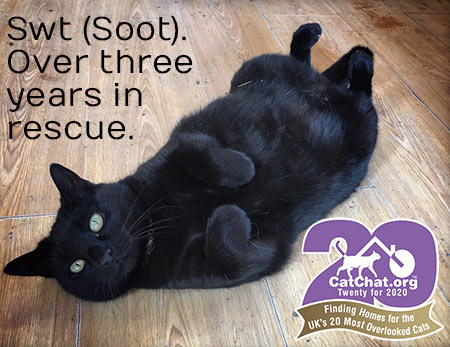 Imagine being half as relaxed as Soot right now! And how about planting a kiss on those big black paws. This sprightly 8-year-old girl is very friendly and hoping to catch the eye of a loving adopter by striking one of her favourite poses - the flop and flaunt!
A country cat at heart, sweet Soot will be easy to have around. She's lived with other cats, dogs, and even horses before. Healthy and house trained, she's content with the little things in life - a sunbeam to lie in, chin scratches, and a quiet garden. Despite happily greeting any visitors with a friendly miaow, Soot has been repeatedly overlooked and now we are in these tough times, it will be even longer.
Can you offer Soot a loving home after lockdown? Why not contact the rescue today to express your interest?
As part of Cat Chat's twentieth anniversary celebrations, Soot will be homed with a parcel of goodies including HiLife Cat Food, a personalised cat collar from Kitty Collars and Feliway to help her adjust to her new life. All cats featured in the campaign are vet checked, neutered, vaccinated and microchipped before adoption.
Freshfields Animal Rescue Centre home across North Wales. Soot not in your area? Help her to find someone who is. Please share this page!
To ask about Soot, please call the rescue on: 01286 880 808 or Email: This email address is being protected from spambots. You need JavaScript enabled to view it. and mention you saw Soot on Cat Chat's 'Twenty for 2020' campaign, thank you!

See More Cats at This Shelter...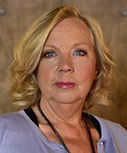 "I am proud to be supporting Cat Chat and their splendid 'Twenty for 2020' campaign. Throughout the year we will be highlighting the 20 most overlooked cats in UK rescue, helping them out of shelters and into homes.

Some of these cats have been in rescue care for several years. Seemingly invisible to adopters, due to their colour, age, health, nervousness or behaviour quirks. Often they are just craving someone who truly understands them and can transform their life. If you have space for a new feline friend, please take a look at these most deserving cats."

Deborah Meaden, businesswoman