Rufus has been in the care of Willows Cat Adoption Centre, South Shields for over three years.
Indoor home preferred.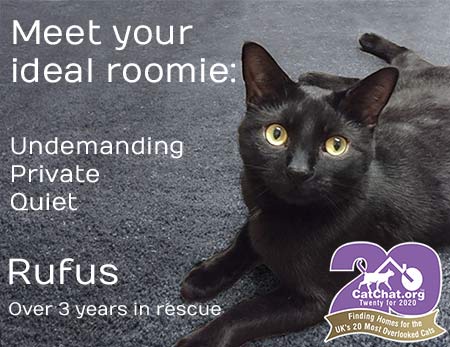 Meet the ravishing Rufus. Arriving at the rescue at just six weeks of age, he has spent his entire life in care - over 3 years! A shy, independent boy, he'll be a great companion for an understanding mature adult who enjoys life's quieter moments. He'll probably never be a lap guy but will happily come running when he hears a can opening!
Having only ever lived on his own, Rufus will do best as a house cat and the sole pet. This is a rare opportunity for a flat or apartment owner to adopt a roomie like Rufus. Long hours at work? Constant Zoom meetings? Rufus is a low maintenance flatmate who won't get in your space.
Have you heard of a window or balcony catio? Look it up and you'll want one, and of course ... Rufus!
As part of Cat Chat's twentieth anniversary celebrations, Rufus will be homed with a parcel of goodies including HiLife Cat Food, a personalised cat collar from Kitty Collars and Feliway to help him adjust to his new life. All cats featured in the campaign are vet checked, neutered, vaccinated and microchipped before adoption.
Willows Cat Adoption Centre home across Tyne & Wear including Sunderland, Co. Durham and Northumberland. Rufus not in your area? Help him to find someone who is. Please share this page!
To ask about Rufus, please call the rescue on: 07719 605 383 or 07989 540 342 or 07595 222 307 and mention you saw Rufus on Cat Chat's 'Twenty for 2020' campaign, thank you!

See More Cats at This Shelter...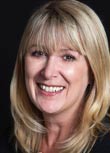 "One of the saddest things I see are cats that have been in homing centres for months, even years. They are well cared for but there is no substitute for a caring, permanent home. Sometimes they are overlooked because they have particular challenges, such as chronic health concerns, or they need a special kind of person in their life that accept them for the quirky cats they are! There are also times when a cat just doesn't get picked – no particular reason but equally sad.

I fully support the endeavours of Cat Chat to give the overlooked cats a voice. Please help these cats by offering a home, whether it's a place on your sofa or a warm barn or shed for those that prefer to view us from a distance."

Vicky Halls, cat behaviourist & author