BT & Sabrina have been in the care of Cat Rescue West Wales for more than two years.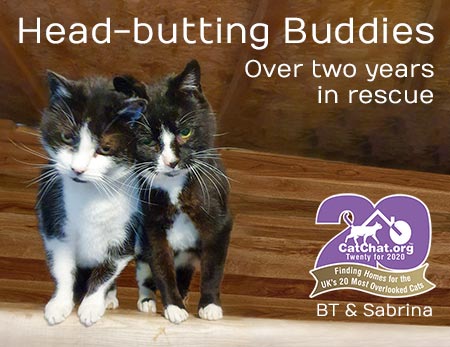 At just 5 and 7 years of age, BT and Sabrina became great friends when they met at the rescue several years ago. Now, these pretty girls lay together and play together. This pair will often sweetly headbutt to show their affection to each other. That's the equivalent of humans hugging!
Although slightly more reserved than her pal, BT can soon be won over with a little patience and a few tasty treats. Sabrina doesn't require any such encouragement to seek attention. A chat and stroke will result in a satisfying purr!
As this cute couple have been in care for so long, they may be a little elusive at first however, we've no doubt that their lucky new owner will soon be the recipient of their very own head butts!
As part of Cat Chat's twentieth anniversary celebrations, BT and Sabrina will be homed with a parcel of goodies including HiLife Cat Food, personalised cat collars from Kitty Collars and Feliway to help them adjust to their new life. All cats featured in the campaign are vet checked, neutered, vaccinated and microchipped before adoption.
Cat Rescue West Wales home across Carmarthenshire, Ceredigion & Pembrokeshire. BT & Sabrina not in your area? Help them to find someone who is. Please share this page!
To ask about BT & Sabrina, please call the rescue on: 07552 868468 or Email: This email address is being protected from spambots. You need JavaScript enabled to view it. and mention you saw BT & Sabrina on Cat Chat's 'Twenty for 2020' campaign, thank you!

See More Cats at This Shelter...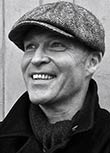 "I want to wish Cat Chat all the very best for 2020 and beyond. I am incredibly impressed by the passion and dedication of everyone involved with this wonderful organisation and the regular news updates are an inspiration to all animal lovers.

Highlighting the plight of the most overlooked cats in rescue to get them into homes is a great challenge but these cats deserve home comforts as much as any.

Keep up the fantastic work!"

Rupert Fawcett, cartoonist and writer