Toby has been the care of New Beginning Cat Rehoming for almost 2 years.
Indoor home preferred.
!! Check out Toby's video...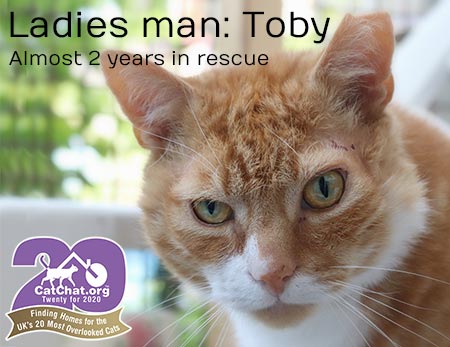 The sort of cat that's never had a particular plan to his life, Toby has just catwalked along, enjoying the good stuff and trying to survive the bad. His rather rugged but handsome facial features suggest that his early days were misspent in the narrow alleyways of Gateshead.
These years of rough and ready lifestyle have taken its toll on Toby's health and the doctor's orders are now for a quiet, indoor life and a special diet. A big softie at heart, seven year old Toby has taken favourably to this new regime but would enjoy it ever so much more in a real home.
With a clear preference for women, Toby would also like to be the only man of the house. Ideally, the only cat too.... Toby really would like to be the only King in his castle!
As part of Cat Chat's twentieth anniversary celebrations, Toby will be homed with a parcel of goodies including HiLife Cat Food, a personalised cat collar from Kitty Collars and Feliway to help him adjust to his new life. All cats featured in the campaign are vet checked, neutered, vaccinated and microchipped before adoption.
New Beginnings Cat Rehoming home across Gateshead, Newcastle and Northumberland. Toby not in your area? Help him to find someone who is. Please share this page!
To ask about Toby, please call the rescue on: 01661 835941 or 01914 823126 or Email This email address is being protected from spambots. You need JavaScript enabled to view it. and mention you saw Toby on Cat Chat's 'Twenty for 2020' campaign, thank you!

See More Cats at This Shelter...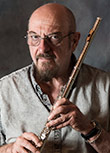 "Everyone - or at least around half of us - loves a cute and cuddly little kitten. But not so many of us have the same soft spot for more mature or unwanted cats, whether strays or from unsuitable homes.

We, the Anderson family, have reared 25 feral cats and kittens over the years. Some went to good homes with friends and family. Some became our life-long companions and part of family history. Some are still with us today.

If you can commit to providing a long-term home for a shelter cat, please visit the Cat Chat website. Remember - a pussy-cat friend for a day is a friend for life."

Ian Anderson, Jethro Tull