Edward has been in the care of Stopford Cat Rescue, Stockport for more than two years.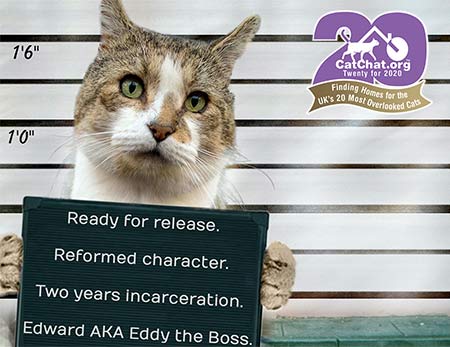 A reformed character, the days of Edward (AKA Eddy the Boss) skulking in the shadows of the ruthless underworld, hanging about with fellow feline felons, stealing, spraying, and murdering mice are well and truly over. Having previously evaded capture, an injured Edward was caught in the act late one night. He has since dutifully served his sentence and medical rehabilitation.
With time off for good behaviour, Edward is now ready to be reintegrated back into society. Reoffending is not thought likely however, Edward may still experience some anger management issues. With his incarceration and enjoyment of regular chow adding to his already stocky build, he will be best suited to a child and cat free environment.
Are you the get out of jail card for this purring parolee?
As part of Cat Chat's twentieth anniversary celebrations, five year old Edward will be homed with a parcel of goodies including HiLife Cat Food, a personalised cat collar from Kitty Collars and Feliway to help him adjust to his new life. All cats featured in the campaign are vet checked, neutered, vaccinated and microchipped before adoption.
Stopford Cat Rescue home across Stockport, Macclesfield and parts of Greater Manchester. Edward not in your area? Help him to find someone who is. Please share this page!
To ask about Edward, please call the rescue on: 07742 977696 or Email This email address is being protected from spambots. You need JavaScript enabled to view it. and mention you saw Edward on Cat Chat's 'Twenty for 2020' campaign, thank you!

See More Cats at This Shelter...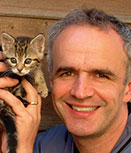 "I am delighted to support Cat Chat and their important 'Twenty for 2020' campaign. The 20 most overlooked cats in UK rescue, deserve to be taken out of shelters and into good homes, and that's exactly what this campaign will achieve.

Cats are sentient creatures, just like us, and they can make such wonderful companions. Sadly, they are often misunderstood: a badly behaved cat is more likely to be a badly misunderstood animal than an inherently difficult creature. Just as with human companions, "every old sock finds an old shoe": one person's challenging pet is another's perfect puss. I know that my own cats add an immense note of calm, pleasure and fulfillment to my life, and I'd encourage everyone to give cat ownership a go."

Dr Pete Wedderburn BVM&S CertVR MRCVS, veterinarian and writer