!! RESERVED !!
Oscar has been in the care of Independent Cat Rescue, Manchester for over six months. Indoor home preferred.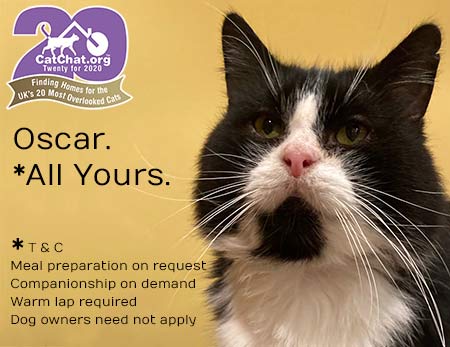 Always read the small print! Fully health checked and still perky, this pensioned puss continues to be a curious cat but without the calamity of a kitten. He won't knock things off your countertops, attack your toes in the middle of the night, eat inedible things, scratch, or bite.
Sleeping on the window sill enjoying the rays of the sunshine or in front of a warm fire is much more his style. Getting on in years is no excuse for not looking your best and a brush of his fabulous fur is a must. Oscar's no grouch and he's always as equally keen to give companionship as receive it.
There's no hunting or roaming on Oscar's bucket list, his only wish is to find a mature cat-loving, indoor home to call his own. Can you provide it?
!! Oscar is now 'Reserved' for a home !!
As part of Cat Chat's twentieth anniversary celebrations, Oscar will be homed with a parcel of goodies including HiLife Cat Food, a personalised cat collar from Kitty Collars and Feliway to help him adjust to his new life. All cats featured in the campaign are vet checked, neutered, vaccinated and microchipped before adoption.
Independent Cat Rescue home across Manchester & Lancashire. Oscar not in your area? Help him to find someone who is. Please share this page!
To ask about Oscar, please call the rescue on: 07747 843734 or Email This email address is being protected from spambots. You need JavaScript enabled to view it. and mention you saw Oscar on Cat Chat's 'Twenty for 2020' campaign, thank you!

See More Cats at This Shelter...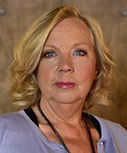 "I am proud to be supporting Cat Chat and their splendid 'Twenty for 2020' campaign. Throughout the year we will be highlighting the 20 most overlooked cats in UK rescue, helping them out of shelters and into homes.

Some of these cats have been in rescue care for several years. Seemingly invisible to adopters, due to their colour, age, health, nervousness or behaviour quirks. Often they are just craving someone who truly understands them and can transform their life. If you have space for a new feline friend, please take a look at these most deserving cats."

Deborah Meaden, businesswoman