Dotty and Elsa have been in the care of Burton Joyce Cat Welfare, Nottingham for over two years.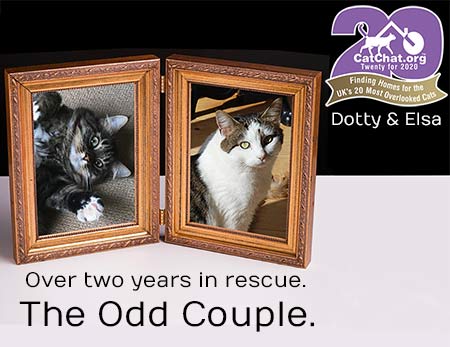 Chalk and cheese? Meet contrasting cats Dotty and Elsa. These young, healthy girls had a shaky start in life with little human contact. Having spent so much time in care, Dotty has decided that free food and comfort are much more appealing than roaming the countryside. Elsa is not quite as convinced but would never break up their solid friendship. She's willing to give it a go as long as it's a calm home and she can take things at her own pace.
Fluffy tailed Dotty is affectionate and loves being brushed and stroked - much more adventurous than her pal. Bobtail Elsa is delightful in a completely different way, enjoying attention from Dotty and long naps after garden adventures.
Are you the one for this odd couple?
As part of Cat Chat's twentieth anniversary celebrations, Dotty and Elsa will be homed with a parcel of goodies including HiLife Cat Food, personalised cat collars from Kitty Collars and Feliway to help them adjust to their new life. All cats featured in the campaign are vet checked, neutered, vaccinated and microchipped before adoption.
Burton Joyce Cat Welfare home across Nottinghamshire. Dotty and Elsa not in your area? Help them to find someone who is. Please share this page!
To ask about Dotty and Elsa, please contact the rescue via Email: This email address is being protected from spambots. You need JavaScript enabled to view it. and mention you saw Dotty and Elsa on Cat Chat's 'Twenty for 2020' campaign, thank you!

See More Cats at This Shelter...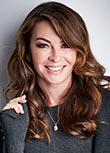 "Cat Chat is a real lifeline to rescues throughout the UK and Ireland and I'm pleased to be able to help them with their campaign being held throughout the year. 'Twenty for 2020' aims to identify cats that have spent way too long in rescue.

Shy cats, sensitive cats, scaredy cats! Some cats just don't sell themselves to potential adopters but are nevertheless, truly deserving of a life free of the confines of a rescue pen. By highlighting these cats to a greater audience, we hope to increase the chances of finding these most deserving cats a home where they can flourish. And often that's all it takes. A little care and attention in a safe place that they can make their own."

Suzi Perry, television presenter