Rescue Centres & Cat Rehoming
(page updated Monday 3 August 2020)

The current Coronavirus situation is challenging for all of us, including rescue centres. On this page we will aim to provide the most current information and advice that we can.
---

Cat Chat
All members of the Cat Chat team work online from their own homes, therefore our website and services have carried on as usual throughout lockdown. Rescue centres are needing our help even more in the current situation, as viewing cats for adoption online has become more vital than ever - the new normal in fact. Find out how you can help your local rescue organisations during this crisis period here: How You Can Help
Rescue Centres
Whilst all rescue centres do of course need to find good homes for the animals in their care, it varies between organisations as to how their procedures have changed, to enable them to safely carry out adoptions. Most rehoming organisations have now adapted their procedures to enable cats to be adopted out whilst also complying with current guidance; find out more on our blog post here: Covid-19: Adaptiong & Adopting.
Please do not visit rehoming centres in person at this time without making a prior arrangement with the shelter, but instead make contact by phone or email: UK & Ireland cat rehoming centres. See also 'Adopting a Cat' and 'Surrendering a Cat' below.
Rescue shelters across the country are bracing themselves for a potential additional influx of cats due to their owners being affected either by Covid-19 itself, or by the economic impact resulting from the crisis. In addition 'kitten season' is here, with stray mums & kittens needing urgent help. As every rescue space is needed more than ever in these challenging times, some rescues are only admitting new cats in emergency situations, such as sick strays or pregnant cats. Please bear this in mind when contacting rescue centres. If you would like to help, please see the 'How You Can Help!' section below.
Adopting a Cat
If you have been thinking about adopting a rescue cat, most organisations have now made temporary changes to their adoption processes to make adoption possible, whilst adhering to all the current safety guidance. Some organisations are not yet able to operate a full service, depending on their resources, and their set-up. The best thing to do is email or phone your local rescue organisations to ask.
Going to a rehoming centre in person may be possible with prior arrangement, but it's a good idea to 'meet' their cats online first at Cat Chat's Cats Needing Homes section. If you see a cat who you are interested in, or if you just wish to enquire about adopting a cat, contact the shelter to express your interest. Some rescue centres are not yet allowing visitors in person, but are instead arranging 'virtual meets' with potential cats.
Please do not visit rehoming centres in person at this time without making a prior arrangement with the shelter, but instead see Cats for Adoption online, and then contact the shelter by phone or email: UK & Ireland cat rehoming centres
Surrendering a Cat
In these challenging times, every rescue space is needed more than ever, and the availability of staff and volunteers may be reduced. Therefore, some rescue centres are currently only admitting new cats in emergencies, such as sick strays or pregnant cats. If you need to rehome your own cat, please first consult our rehoming advice page to see if rehoming can be avoided, or consider whether a Direct Homing with the help of a rescue would be possible.
If you have no alternative to rehoming your cat, please be aware that many rescues are only taking new animals in if it is an emergency, and for all other situations will be operating a waiting list. Please do not visit rehoming centres in person without an appointment, but instead make contact by phone or email: UK & Ireland cat rehoming centres
Cats Protection
Cats Protection are currently able to adopt cats out from selected rehoming centres only.
Cats Protection rehoming statement: "During this developing coronavirus (COVID-19) situation, Cats Protection is taking extra precautions to keep our cats, volunteers, employees and the public safe. This currently means that we are only homing cats from selected centres. Also, some activities, including face-to-face fundraising and events, have been put on hold until further notice. We will only be able to take in cats for rehoming in emergency circumstances at this time. Further details are available on our website: www.cats.org.uk/coronavirus and this will be updated as new information becomes available."
Blue Cross
Blue Cross are able to adopt out cats and dogs, under a new, temporary adoption procedure, as follows: www.bluecross.org.uk/our-rehoming-process. Regarding new admissions the Blue Cross said: "We're sorry but with the exception of pets on our pets into care scheme or admitted via our hospitals we are not able to admit pets at this time. Once we have reduced the number of pets in our care through foster and rehoming to a number that is manageable for our significantly depleted team we will re-open admissions for pets in crisis."
RSPCA
RSPCA are able to adopt out cats or dogs, under a new, temporary adoption procedure, as follows: www.rspca.org.uk/rehomeapet. RSPCA animal centres, wildlife centres and charity shops are still currently closed to the public. No animals can be admitted from the public, this includes wildlife. RSPCA Coronavirus latest updates
Support Shops
Charity support shops were allowed to re-open in June, provided they comply with the relevant covid-19 safety guidance. You should wear a face covering when entering support shops, as is currently required in all shops. Along with all other 'non-essential' shops, support shops were closed between March, and June, and all the usual fundraising events were cancelled due to Covid-19. This has meant that rescue centres and rehoming groups - particularly the smaller ones - have been struggling for funds. See 'How You can Help' below, or contact your local rescues to ask what help they need.
Charities with support shops may be eligible for grants to help them over this time: Grants info for charities with shops
Be Prepared
Whether you are in an 'at risk' category for Covid-19 or not, it is sensible to have a pet care plan in place for if you become unwell. Appoint a friend or family member who could care for your pet(s) if you become too ill to do so, or if you were taken into hospital. This could mean seeing to their needs in your home, or taking them into their own home temporarily. Ensure that you have at least two weeks' supply of pet food, litter etc ready, as well as any medications (and instructions) in case of the need to relocate your pet. Also please ensure that your cat is neutered and microchipped. In case boarding becomes necessary, ensure your pets' vaccinations are up to date.
If you or anyone in your household feels unwell or has symptoms which might potentially be due to coronavirus, find information and guidance here: NHS website: Coronavirus (COVID-19).
Self Isolating with pets
If you are shielding or self isolating, include pet food in your online shopping, or use one of the many online shops specifically selling pet supplies. Alternatively, contact friends, family members or neighbours by phone or email, to ask if they could bring supplies to your door. You may also find that some local independent grocery stores will deliver, particularly in this current situation. If you are an older person, help is also available from Age UK. If you are ill yourself, deliveries should be left outside your door. For hints and tips on Self isolating with pets, both cats and dogs, see the 'Self Isolating?' links below.
If you are self-isolating due to symptoms of coronavirus, or if a member of your household is infected, the British Veterinary Association is advising that cats in such households should ideally be kept indoors, but only if the cat is happy to be kept inside: See full BVA Statement below.
Pets and Coronavirus
Veterinary and scientific experts worldwide agree that COVID-19 can NOT be transmitted from pets to humans. The British Veterinary Association's president, Daniella Dos Santos said "There is no evidence that pets can pass Covid-19 to their owners", and New York State Veterinary Medical Society said: "At this time, there is no evidence that companion animals can spread the coronavirus." There is however, some limited evidence from a tiny number of cases, that the virus may be able to transmit from humans to cats, and from cat-to-cat, hence the British Veterinary Association's advice that cats from infected households should ideally be kept indoors, but only if the cat is happy to be kept inside: See BVA information below. Please be assured that Feline Coronavirus (FCoV) is NOT linked in any way to the current Coronavirus (COVID-19) in humans.
British Veterinary Association (BVA)
27th July 2020: British Veterinary Association offers advice and reassurance today after news that the virus responsible for Covid-19 had been detected in a pet cat in England; the first such known case in the UK. All available evidence suggests the cat contracted the coronavirus from its owners. The animal has since made a full recovery. There is no evidence that infected pets can pass Covid-19 to their owners. Read the full article here: www.bva.co.uk/reassurance-cat-tests-positive-covid-uk
8th April 2020: Following an incorrect headline published by the BBC on 8th April, the BVA issued the statement below, which clarifies their advice as of that date. In short, there is no reason to keep your cats indoors, unless someone in your household has coronavirus, or if you are self isolating due to symptoms; and even then only if your cat is happy to be kept inside. The full BVA statement appears below. Read the latest BVA advice here: (Covid-19): what we know so far.
Also related, is this statement from International Cat Care and International Society of Feline Medicine: Covid-19: Don't start keeping your cats indoors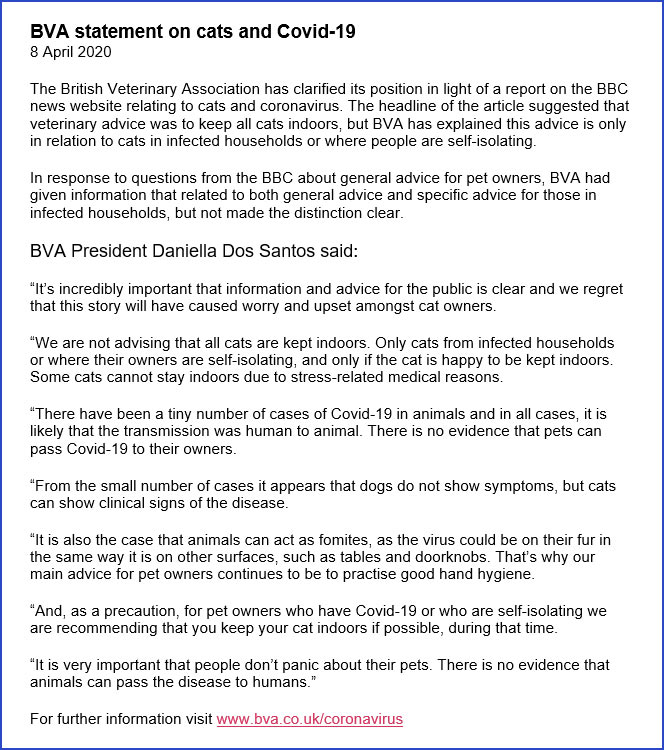 How You can Help!
£ Donate to Your Local Shelter: The main worry for animal rescue organisations right now is quite simply a lack of funding. Public fundraising events have been cancelled and support shops had to close for almost three months due to government measures. For many of the smaller rescues in particular, this loss of funds has had a huge impact, as vet bills and animal care expenses still need to be met. If you are able to help your local rescue organisation with a donation - however small - that really is the best way you can help. Find details of rescues near you on our Shelter Listings (NB: To donate to a specific shelter, please donate to them directly, not to Cat Chat, thank you!).
Food & Litter Donations: Donations of pet food & litter may also be welcomed by your local rescue organisation, but please check with them first if, where and how they are able to accept in-person donations as this will be restricted during the current crisis. Some organisations have petfood collection points in local supermarkets.
Amazon Wish-Lists and eBay: A growing number of rescues have an 'Amazon Wishlist' where you can buy petfood, litter and other petcare items on their behalf, which are then delivered directly to them; shelters will usually advertise this on their website or facebook page. Some rescues are trying to maintain a small level of income by selling items on eBay, so please look out for listings with the 'Charity ribbon' which benefit animal rescue organisations.
Food Banks: When shopping, please consider buying an extra box, packet or tin of pet food to donate to your local food bank (most supermarkets have a food bank donation box). There will be people on the lowest incomes already struggling who might otherwise feel they must relinquish their cat to a shelter if they can no longer feed them. As shelters don't have extra space now since no adoptions are taking place, this could result in cats abandoned to the streets.

Neutering: The other way you can help ease the pressure on rescue centres is to make sure your cats (both male and female) are neutered. The fewer unwanted kittens that need to come into rescue over the coming months, the better. However, due to the latest government guidelines, many vets practices are only offering medically essential appointments, which may not include neutering. If you have an adult cat who is not yet neutered, and if you can't find a vet to carry that out at this time, we would advise that you keep them indoors until such time as they can be neutered or spayed, so that they don't add to the cat population. For details about neutering and low-cost options visit our Neutering Information page.
Emergency Funding for Rescues
Emergency grant funds have been set up around the country to help support smaller charities and not-for-profit organisations through the coronavirus crisis. If your organisation is struggling financially due to loss of income due to coronavirus, we recommend searching online for funds in your local area. Your local authority should also have details of what emergency funding is available. Other funds & resources we are aware of are:

UK Wide: Coronavirus Emergency Fund (for Dog and Cat rescues): The Association of Dog & Cat Homes, in partnership with PetPlan Charitable Trust, Battersea Dogs & Cats Home, Dogs Trust, Mars Petcare and A Better World for Pets. Grants of up to £10K : www.adch.org.uk/adch-coronavirus-emergency-fund/
UK Wide: Pets at Home / Support Adoption for Pets: Extra grant funding now available for UK rescue centres and animal charities facing financial hardship due to COVID-19. www.supportadoptionforpets.co.uk/grants
UK Wide: The CAF Coronavirus Emergency Fund. (Please Note: This fund is temporarily PAUSED @ 27.07.20): CAF Emergency Fund
UK Wide: Battersea Grants - helping more dogs & cats by supporting other animal rescue organisations: www.battersea.org.uk/battersea-grants
UK Wide: Giving Grid for Animals - Free fundraising tool for rescues impacted by COVID-19: www.givinggrid.com/uhrescue
UK Wide: Charities with support shops: Grants for charity properties in receipt of the Expanded Retail Discount: www.charitytaxgroup.org.uk/coronavirus-information-hub
UK Wide: Civil Society list of funding available to charities during the Covid-19 pandemic: www.civilsociety.co.uk/charity-funding
UK Wide: Good Finance list of funding available to charities regionally & UK Wide: www.goodfinance.org.uk/coronavirus-post/funding
UK Wide: UK Communities Foundation, distributing funds from National Emergencies Trust coronavirus appeal: www.ukcommunityfoundations.org
UK Wide: Grants Online: List of funding programmes for non-profits impacted by Covid-19: www.grantsonline.org.uk/coronavirus
UK Wide: Covid-19 Resource Hub for charities & Social enterprises: www.goodfinance.org.uk/covid-19-resource-hub
UK Wide: Coronavirus funders list compiled & updated by Ian McLintock: linkedin.com/pulse/coronavirus-charity-funding
UK Wide: National Lottery Community Fund - funding organisations affected by Covid-19 over the next 6 months: tnlcommunityfund.org.uk
UK Wide: Charity Excellence Framework - Free COVID19 Funder Database (545 funders) & Toolkits for charities: www.charityexcellence.co.uk
Dorset (Bournemouth, Christchurch & Poole): Talbot Village Trust Covid-19 Support Fund: www.talbotvillagetrust.org
London: London Community Response Fund: helping London based charities affected by Covid-19: www.londoncommunityresponsefund.org.uk
Merseyside, North Wales & Cheshire (west of M6): Steve Morgan Foundation fund, supporting charities & non-profits: Steve Morgan Foundation emergency fund
Tyne & Wear and Northumberland: Community Foundation: Supporting local charities: www.communityfoundation.org.uk
West Midlands: Heart of England Community Foundation, Coronavirus resilience fund: www.heartofenglandcf.co.uk/available-grants
Further Information
Help & news for animal rescues #2 (05.05.20): Help & News for Shelters during Covid-19
Help & news for animal rescues #1 (23.04.20): Help & News for Shelters during Covid-19
CSFG guidance for pet rescues (16.04.20): Covid-19 Guidance for Rescue and Rehoming Organisations
NHS advice: NHS Guidance - Coronavirus (COVID-19).
​Mutual Aid UK, Local groups helping vulnerable people in communities across the UK: covidmutualaid.org
Age UK, help for older people: www.ageuk.org.uk
Rehoming Guidance for Shelters: Canine & Feline Sector Group Guidance for Animal Rehoming Organisations
Boarding Catteries - Advice for catteries during Covid-19 (International Cat Care): icatcare.org/covid-19-boarding-catteries
British Veterinary Association (BVA): (Covid-19): What We Know So Far
Cat Owners Advice (International Cat Care): Covid-19 Advice for Cat Owners
Self Isolating? PDSA Advice on Self Isolating with Pets
Self Isolating? RSPCA Advice on Self Isolating with Pets
RSPCA current adoption process: www.rspca.org.uk/rehomeapet
Cats Protection services: www.cats.org.uk/coronavirus
Blue Cross current adoption process: www.bluecross.org.uk/our-rehoming-process
---
Keep Safe • Stay Well • Fuss Your Cats!
---