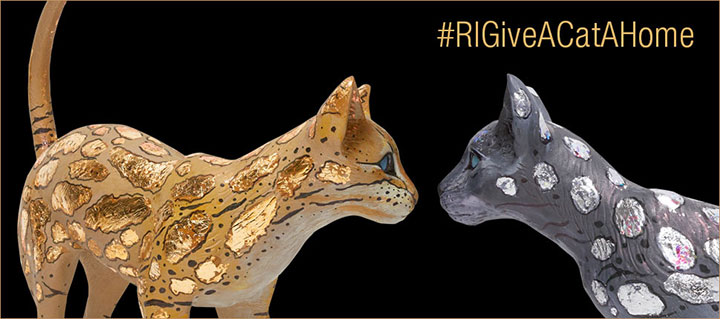 Please note: This campaign took place in December 2017, and River Island do not have any of the cats left!
Fabulous Feline Figurines promote River Island's 'Give a Cat a Home' campaign
Cat Chat and top fashion retailer River Island have got together this Christmas to find loving homes for 600 very special limited edition cat mannequins. These stylish figurines will star in River Island's 'Give a Cat a Home' window displays in 75 stores nationwide.
The elegant cat-sized mannequins come in four colours and five feline poses, representing the wonderful variety of cats awaiting adoption in rescue centres across the country. And guess what, you could get your paws on one, and help Cat Chat, when the figurines go on sale in store from 1st December!
Helping Cat Chat - Promoting Cat Adoption
All proceeds from the sale of the mannequins are being generously donated by River Island to Cat Chat in support of our work. Currently, with Cat Chat's help, over 8,000 rescued cats a year find new loving homes.
Cat Chat discourages giving real cats as gifts, especially at Christmas time when households are often busier and noisier than usual. However, one of these beautiful mannequins would make a truly unique gift for any cat lover. They really are the cats you can give at Christmas!
River Island's Give a Cat a Home campaign is a fantastic way to raise awareness of all the lovely cats needing homes across the UK and Ireland. By 'adopting' one of these fabulous feline mannequins, you will be supporting Cat Chat's mission - to help cats out of shelters... into homes.
Want to Get Your Paws on One? Here's How...
The limited edition figurines can be purchased in-store, on a on a first-come-first-served basis, from Friday 1st December, priced at £40 each. Enquire in store, or visit the River Island website for more details: www.riverisland.com


And Here's Where...
The cats are available in the following stores - UK: Aberdeen Union Square, Aberdeen Bon Accord, Belfast Victoria Square, Birmingham Fort, Birmingham Bullring, Bluewater, Bradford, Brent Cross, Brighton, Bristol Cabot Circus, Bristol Cribbs Causeway, Burnley, Cardiff Queen St, Cardiff St Davids, Cheltenham, Croydon, Derby, Dudley Merryhill, Edinburgh Princes St, Exeter, Fareham Whitely, Gateshead, Glasgow Argyll St, Glasgow Breahead, Glasgow, Buchannan Galleries, Glasgow Fort, Glasgow Silverburn, Hanley, High Wycombe, Hull St Stephens, Leicester Fosse Park, Leicester Highcross, Leeds Trinity, Leeds White Rose, Liverpool Church St, Liverpool Retail Park, Livingston, London Oxford St 213, London Oxford St 301, London Oxford St Parkhouse, London Stratford, London White City, Manchester Arndale, Manchester Trafford, Milton Keynes Fashion Park, Newcastle, Nottingham Listergate, Nottingham Victoria, Oxford Westgate, Plymouth, Sheffield Fargate, Sheffield Meadowhall, Solihull, Southampton, Stockton Teesside Park, Sunderland, Tamworth, Thurrock, Walsall, Warrington, Watford, Wigan. Eire: Cork Opera Lane, Dublin Blanchardstown, Dublic Dundrum, Dublin Grafton St, Dublin Ilac, Dublin Liffey Valley, Dublin Swords. Holland: Amsterdam, Rotterdam Lijnbaan, Den Haag.
---