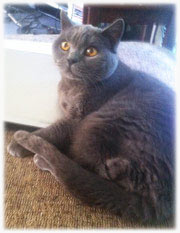 May 7th 1996 - 4th January 2013
You came into our lives as a beautiful bundle of love over 16 years ago. You stood out from the other kittens, not only with your beauty but also your mischievous ways. You always brought beauty, love and sunshine into our lives. You brought me comfort through the loss of a child and being diagnosed with cancer.
Recently, you became poorly. Your kidneys were failing and the vet said there was nothing we could do. You went to sleep in my arms as I cried. You were my angel, a pleasure and a privilege to share my life with, and can never be replaced. Rest in peace my angel. I hope we meet again someday. I will cuddle you then, and never let you go.
Love Donna & Guy Corbin xxx