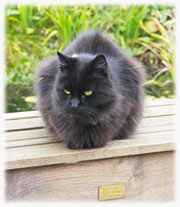 February 1995 To 5 October 2012
We chose you for that special look you always had with your long glossy hair and fluffy tail. You gave us many years of fun pleasure and kindness. Always there for a special cuddle or stroke and brush up.
Now reunited with your mate Brandy, both of you are always in our thoughts and hearts - we love you so much.
Goodnight and God bless until we meet at Rainbow Bridge. Bramble Bush (Brammers) we miss you every day and will never forget you.
Lots of Love Mom & Dad & the Gang