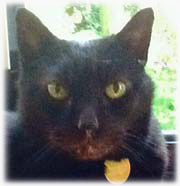 14th February 2014
Luke, you were a legend in your own lifetime!
You lived a long a happy life - and you were loved to the max! An older black rescue cat, you came to live with us with your brother Duke in December 2001. We already miss your yowling and purring, and your many funny ways. You were always great company, affectionate, and a great source of amusement!
For anyone reading this... Please don't overlook black, or older cats (Luke was both!), I didn't think it was possible to love a cat this much, and he gave as good as he got!
RIP Luke - always in our hearts and minds.
Claire, Alistair and Duke xxx