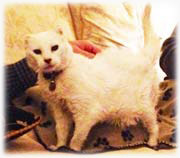 May 2014

With us for such a short time….but loved so much.
A grand old lady with a sad story to tell.
I hope your time with us was the best of your life.
You deserved so much longer and I wish I could have done more for you.
A beautiful cat with a beautiful spirit. Always in my heart.
Could not have been more loved.
Sleep well my gorgeous girl.
All love and kisses,
Mummy xxx