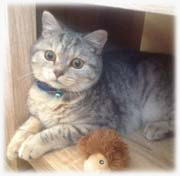 02/07/13 - 18/11/14
God Looked Around His House and Found An Empty Space.
He then looked upon this earth, and saw your tired face.
It broke our hearts to lose you, but you did not go alone.
For part of us went with you, the day God took you home.
You crossed Rainbow Bridge long before your time.
You're missed so so much darling boy
Sleep tight Until we meet again
Lots of Love and kisses
Mummy and Daddy XXXXX