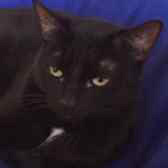 Hello, I'm Arwen and I'm here with my sister Eowyn to see if we can find a nice quiet home. We're only a year old and up until recently had a lovely home, we just got a bit scared when the baby came along. So, we're hoping for either a child free home or one where there are older children. I'm mostly black and Eowyn is black and white, she is as beautiful as I am but was a bit shy for getting her picture taken, once she gains a bit of confidence, her pic can be added next to mine! We're a lovely pair of girls, we just need our confidence boosted and a quiet loving home. We'd like a garden so we can have mini adventures and sun bathe. We've been neutered and although we're not sure about living with dogs, we could live with another cat. Would you have the right sort of home and the love we need?
ARWEN & EOWYN are at Cramar Cat Rescue and Sanctuary, Birmingham. Rehoming across the West Midlands. To make an enquiry, please call: 0121 445 1840, and please mention you saw Arwen & Eowyn on Cat Chat, thank you!
See More Cats at this Shelter..