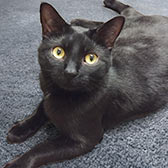 I've been waiting over 3 years... Please pick me! Hi, I'm Rufus. I'm 3 years old, neutered, and came to Willows as a feral at 6 weeks old. Most feral kittens, if caught early enough, can turn into normal house cats. But I am still terrified of most things. Even though I have been brought up in a busy house, if anyone comes to visit I run upstairs to hide. I've learnt to trust my foster humans and love my strokes first thing on a morning, but I'm still a very independent soul. It would take a very very patient human to build up my trust. Food is the way to my heart and I may sneak a chip or sausage off your plate when you're eating. I would like to live indoors and would not like to live with children, dogs, or other cats.
RUFUS is at Willows Cat Adoption Centre, South Shields. Rehoming in Co.Durham, Northumberland & Tyne & Wear. To make an enquiry, please call: 07719 605 383 or 07989 540 342 or 07595 222 307, and please mention you saw Rufus on Cat Chat, thank you!
See More Cats at This Shelter…


Rufus is featured on our "Twenty for 2020" Campaign - Read More Here...