Catcuddles Sanctuary (The)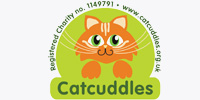 Rehoming Cats & Kittens:
London (West), London (East) & Kent (West)
Euston & Fleet RESERVED
Often at Catcuddles we rescue stray kittens who were born outside, and as a result are very shy and unsure of people. This is the case with 6.5 month old bonded brothers Euston (black) and Fleet (black & white) who are looking for their forever home.

Until they arrived with us at the age of two months, they had limited experience with humans and as a result, don't always understand what our intentions are. After getting such kittens' healthy our volunteers get to work socialising them, teaching them that people mean no harm and just want to offer them fuss and kindness! Fleet and particularly Euston remain shy and what they now need most is a loving, forever home to teach them to trust over time, so that they can grow into affectionate, outgoing adult cats. Euston and Fleet arrived at Catcuddles with their brothers Vine and Strand who are flourishing in their adoptive home. Like their brothers, Euston and Fleet are best suited to an experienced, settled, adult only home with an adopter who is committed to carrying on their hands-on socialisation.

We've had to teach them, through lots of one-on-one contact, patience and kindness, that people mean them no harm, and they're finally starting to understand this, and Fleet has made great progress. Euston can still be a little skittish but is now unfazed with strokes whilst he's eating. Euston might hide or even hiss occasionally, because they're both still learning that humans in general can be trusted. As a result, they need patient adopters willing to do what it takes to teach them these lessons. It will take lots of time and hands-on contact to build a relationship with the pair and help grow their confidence and comfort around people - simply leaving them to their own devices and hoping that they come around will not be enough, so their adopters need to be fully aware of this.

They simply need a bit of time, understanding and persistence - the more of this they are shown, the more confident and comfortable around people they will become.

They're also a very active, playful pair - typical kittens - who love dangly and feather toys and will wrestle with them for hours. They're looking to be homed as a pair to a home with safe outdoor access including catflap, and could potentially share their new home with another cat friendly cat.

Euston and Fleet are both neutered, microchipped and fully vaccinated and are up to date on flea and worming treatment. They do have sensitive tummies so are currently on a diet of gastrointestinal kitten food and take this alongside probiotics. These can be easily purchased from online retailers or Vet's.

Euston and Fleet have made great progress since arriving but are very timid around new people, therefore in the first instance an introduction is likely to be via a video call, which an adoptions team volunteer will be happy to organise with a suitable prospective adopter at the appropriate time.

Like their brothers, Euston and Fleet have the potential to become happy, friendly and outgoing cats with time, patience and love.

Commitment

Adopting a cat is a lifelong commitment: cats can live for 20+ years. Please read the following information carefully to ensure you understand our requirements for adopting a kitten. We are open to enquirers ready and able to adopt now, so if you are not yet ready please wait until you are before submitting an enquiry. Don't forget to also read our general adoption advice as well.

Kittens require huge amounts of stimulation, guidance and attention throughout the day, and cannot be left alone for long periods - companion cats provide them with a little extra company. It is much easier to have a pair of kittens as they will keep each other entertained and grow up much better socialised than a solo kitten would. Of course you'll still need to devote plenty of time to continue their socialisation.

Kittens adopted from us will need to have access to a garden in a safe location, away from busy roads and via a cat flap into the back garden, once they are of age (in the case of Euston and Fleet this will be no earlier two months after adoption). Please note: we are not currently operating a waiting list to rehome kittens to indoor only homes. When available we will post profiles of suitable kittens who can be rehomed to an indoor home for their own safety or for health reasons.

It is a lifetime requirement for kittens who will have eventually have access to the outside to always be provided with an appropriately sized litter tray inside for their urinary health.

Kittens and cats should always be kept inside from dusk to dawn for their own safety and to protect local wildlife.

Healthcare

Local adopters may choose to remain registered at our first opinion vet clinic for routine consultations, annual health checks or for other assessment and procedures as required throughout their lives. The Clinic is open to all felines whether or not they were adopted from Catcuddles.

Preparing for kittens

Please wait until you are going to be home for at least two months before going away for longer than a weekend, and that you have no forthcoming building works or other disruptions on the horizon.

You will need to have one room in your home you can dedicate to your kittens in their first weeks so they can get used to their new environment and establish a good routine before being introduced at their own pace to the rest of their home. The adoptions team can give further advice and feedback on a suitable space and how to ensure your home is 'kitten-proof'. For hygiene we would always recommend waterproof mattress protectors on all beds as a precautionary measure when slowly introducing kittens to your home.

When getting ready for kittens you will need to ensure windows are kept closed or securely open no more than 1-1.5 inches and that cleaning products, food, plants and flowers are always kept out of reach. Do you need to organise for any catproofing of your windows to prepare for warmer weather? Taking precautious is essential and will be covered with our adoptions team during the home visit. Any plants that are not cat safe should be removed, and even cat friendly plants should not be left for them to chew on (cat grass being the exception!) Unsure what is and isn't safe? Visit ASPCA for advice.

Kittens are intrepid explorers and will climb into the smallest spaces and onto shelves. Keep surfaces free for them to explore, but also ensure you provide a suitable cat tower to give them a vantage point and somewhere safe to spend time on. If you need tips on kitten proofing why not read this advice?

Kittens should not be restricted with their food but you should get them used to meal times. After neutering and by the time they are six months old they need to be happy with meal times and not resorting to grazing. This helps in two ways: to ensure they do not gain excess weight and so they are incentivised to come home when hungry.

After adoption you'll need to keep in regular contact during the first six months to provide us with updates and seek support if needed, and Catcuddles is always here beyond this period as needed.

If you do not yet have a catflap you'll need to ensure this is installed within 4 weeks of adoption. We'd recommend a dual scan, microchip cat flap. This ensures only your cats can access your home but also enables you to shut the catflap to one cat when needed as well.

If you live on a busy road why not build a catio or buy one from a specialist company or ask a local carpenter to build you one?

Ensure no one in the home has allergies, if you have any doubts do research and speak to the Adoptions Team, do not hope that things will just turn out ok!

Ready to enquire?

If you haven't done so already read our tips regarding adoption here. When submitting an enquiry don't forget to give us as much experience on your experience and the home you have to offer. Our priority is to match felines with homes that suit their needs, character and long term requirements so please be opened minded on the recommendations from our experienced adoptions team volunteers and please ensure you feel ready to adopt before submitting your enquiry out of consideration to our volunteers. We are unable to consider enquiries for a specific coat colour or fur length, this has no bearing on a kitten's ability to settle into their forever home.
Information
Status:

Homed

Gender:

Pair - Males

Fur colour:

» See description

Fur length:

Shorthaired

Age(When Added):

6 Month(s) Old

Neutered/Spayed:

Not old enough

Indoor/Outdoor

Access to Outdoors

Can live with children:

No

Can live with dogs:

Not Sure

Can live with other cats:

Not Sure
---
Euston & Fleet RESERVED Video
When contacting us, please mention that you found us through our Cat Chat Homing Page - thank you!