Willows Cat Adoption Centre
Contact
Mobile: 07719 605383 or 07989 540342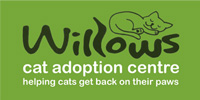 Rehoming Cats & Kittens:
Tyne and Wear, Co. Durham & Northumberland
Penny Lane
Dear Diary... I'm a gorgeous 6-ish year old called Penny Lane. I came to stay with Willows kind fosterers Uncle Pawl and Auntie Christine on 30th December. I was quick to explore the room and have some breakfast. Within half an hour I was allowing Auntie Christine to fuss me and I reciprocated with some loud purring. I went back for a second and third breakfast. I only eat two or three mouthfuls at a time. I've also had some water. I've sniffed at my litter tray, but don't need to use it yet. I come with a reputation that I've been overeating, so I'm on a gentle diet.
Uncle Pawl went to answer a knock at the door, so I escaped my room. The hallway has lots of locked doors, that require me to investigate the other side of – but at the moment they won't let me. Something about a 'one room rule' which helps settle new arrivals. I'm back in my room and itching to get out, but Uncle Pawl and Auntie Christine just sit there and don't take any notice of me. I've explored this room – I now need to explore the rest.... aren't humans boring? Auntie Christine played with a laser pen, but I'm not ready for it yet.
Uncle Pawl and Auntie Christine went for their lunch and left me alone – I wasn't happy - I m nosey and like to know what's going on. They let me into their eating room and I explored a bit. I eventually jumped onto the chair next to Auntie Christine and went to sleep. Zzzzzzzzz.
Auntie Christine has come to the conclusion that I am in need of company as I follow my foster humans if they leave me for too long. I haven't caused any problems so far, but they are talking about taking the Christmas Tree down tomorrow... I don't know why... I haven't done anything – YET!
31st December
I had a quiet night. I didn't eat all of my tea – Auntie Christine and Uncle Pawl think I'm a little and often eater rather than a big eater... although my slightly chunky size doesn't support this theory. They are concerned that I don't seem to have used my litter tray yet... but by 7.30 this morning, I had put that right.
I'm happy curling up on the arm of the sofa next to Uncle Pawl or Auntie Christine and simply minding my own business. I like to have company and don't necessarily need attention ALL the time. Whilst Uncle Pawl and Auntie Christine spend a lot of time in my room, when they are not in it I need to be with them... although I managed to sneak into their bedroom this afternoon and went to sleep on their bed. Zzzzz.
This morning, I spent an hour on the sofa with two paws on Auntie Christine and the rear two on the sofa. This evening I was sitting next to Uncle Pawl and he was grooming me, then he baptised me with some liquid – Phfffff – I'm not sure what it was, but it wasn't very nice.
They've taken the big green bauble-glad scratching post down and changed the room around a bit.... this calls for further exploration.
They've squirted magic catnip spray on a few of my toys. I'm not ready to play yet, but have had a good sniff.
People are setting off loud bangs, I'm not sure that I like that. Auntie Christine closed the curtains so that I wouldn't have to see them... They have noisy curtains – I'm off!!
1st January
I'm a good sleeper and don't wake my humans asking for food (not like one of their last furry house-guests apparently). Uncle Pawl still doesn't think that I've got my appetite back after my recent ordeal of losing my owner as I haven't eaten a whole pouch in a day yet. I like my dried food, but only have a couple of mouthfuls at a time. I know where my litter tray is and use it. I'm currently allowed in my room and whichever room Uncle Pawl and Auntie Christine are in... but that's all.
I played with my laser pen tonight for a few minutes and then retired to the arm of Uncle Pawl's chair and sat there for the rest of the night.
2nd January
Uncle Pawl went to the toilet at 5.15 – so I followed him. He went back to bed so I continued to follow him. He scooped me onto the bed and after a few minutes making my mind up, I lay for 45 minutes on his chest, had a good fuss and a good purrrrrrrrrrrrrr.
Uncle Pawl and Auntie Christine are still concerned that I'm not eating a great deal, giving the reputation that I came with. I still don't finish a pouch off in a day, I like a little dry food, but only about a handful.
3rd January
I spent most of last night in bed. At 5.30, I decided that Uncle Pawl needed a lie in, so I lay on his chest until 7am. I purrrrred for the full 90 minutes. Apparently, he has to go to work tomorrow, so I'm making sure he rests today. I love sitting on the sofa next to Uncle Pawl or Auntie Christine. I don't necessarily need constant attention – I just need company. When it came to breakfast time, I meowed for the first time.
I played with my laser toy for 10 minutes tonight and also had a sniff at the Christmas pudding that was a favourite of Teaser, Shy & Bold – I also gave it a flick. Uncle Pawl and Auntie Christine went to the "pub" this evening. Apparently it's call The Horse and Zoom. Everyone who saw me thought that I was gorgeous.
4th January
I slept on Auntie Christine's pillow during the night – she wasn't impressed, but I was comfy. Uncle Pawl went to work early and Auntie Christine stayed in. An engineer came to fit a new boiler in and I was restricted to one room. Fortunately Auntie Christine allowed me to stay in her room and she put a heater on to keep warm – which suited me.
5th January
The boiler people came back and took up floorboards – I wasn't allowed to investigate. In fairness, I'm happy to be snuggled up on the sofa that has a radiator behind it. Uncle Pawl and Auntie Christine are still concerned about how little I eat.... they are putting it down to me being in unfamiliar surroundings, but are keeping an eye on me. I've been here a week now and I'm starting to locate the comfy warm places... but there are a lot of doors that I haven't been able to go through yet... so there may be better ones to come.
I love my auto laser toy now and I've sniffed a few of the other toys, but I haven't interacted with them yet. I'm very much a cat that likes to be near my humans. Whether this is on the arm of the sofa that they are sitting on or on the back of the sofa or sitting next to them – it doesn't really matter. I haven't sat on a knee YET.... although it seems to be what Uncle Pawl and Auntie Christine want, but I'm happy to lie on them in bed. Yes - I like a fuss in bed. I'm very good and only jump on the bed when my humans stir or when the alarm goes off... I don't wake them unlike my 'cousin' precious foster cat Teaser. Today Uncle Pawl carried me onto a step thing and then walked onto the step thing without me. Apparently, I'm 10.8 lbs (4.9 kgs). Is anyone else starting a diet in January?
Did I mention I purr very loudly, especially when fussed, but I don't Meow much?
That's all for now,
PurrMeows
Penny
Information
Status:

Needs Home

Gender:

Female

Fur colour:

Black & White

Age(When Added):

6 Year(s) Old

Neutered/Spayed:

Neutered

Indoor/Outdoor

Access to Outdoors
When contacting us, please mention that you found us through our Cat Chat Homing Page - thank you!