Cats Protection - Glasgow Branch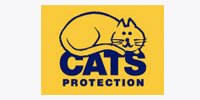 You may remember we let you know about George, the wee one that was reported to us as a stray with a sore eye and an appeal to find his family was unsuccessful. From what we can gather George has been in the same area of Glasgow for a number of years with a few people feeding him, but all thinking the same thing … that he had a family somewhere.
George was brought into our care on 4 January 2022 and admitted into the vet to be assessed. It was during his assessment the vet discovered the gruelling truth with regards to his eye injury …. they found an air rifle pellet in his eye and sadly his eye had to be removed.
He had his operation on 5 January 2022 and after a few days of recovery at the vets he is now being looked after by one of our volunteer fosters, enjoying his home comforts and is doing great.
On Monday 17 January George was at the vets for his post-op, check-up and the vet was very pleased with his progress. The area where his eye had been has healed really well and even better …. it is not "sunken" which can sometimes happen.
Poor soul is booked in for a dental next week as he has two broken canines which need to be removed and that operation in itself is also another big op for him to go through.
If anyone would like to make a donation to help towards George's vet care, that would be much appreciated and you can donate on our website by clicking the following link:
https://www.cats.org.uk/donate/?b=135
Please click the box that says "One-Off gift", enter amount, click continue and in the comments box please type "George"
We have been blown way by the donations and support for George over the past week and we would like to advise that once George's needs are met, any monies left over will be used to help the other cats that we have in our care.
Please note that we are "not" looking for a home for George just now and he is not available for adoption as ongoing enquiries are being conducted into who inflicted his injury.