Celia Hammond Animal Trust - Lewisham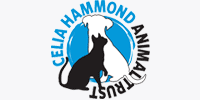 MORE NEEDY CATS & KITTENS
Tue, 11 Feb 2014
FOR MORE NEEDY CATS AND KITTENS SEEKING HOMES PLEASE VISIT OUR MAIN WEBSITE www.celiahammond.org
C.H.A.T takes in more stray and unwanted cats and kittens every day between our two London Branches.....
The Celia Hammond Animal Trust has two Branches in London, each runs a low cost neuter clinic for cats and dogs AND has a busy rescue and rehoming shelter for cats both domestic and feral.
Please visit our main website for more information and details of even more needy cats and kittens seeking new homes.