Celia Hammond Animal Trust - Lewisham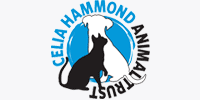 PLEASE HELP US APPEAL FOR HOMES FOR FERAL CATS...DISTRIBUTE POST
Tue, 27 Jan 2015

OUR NEW FERAL/SEMI-FERAL CAT POSTER....
We have a brand new poster to promote our feral/semi-feral cats needing homes, and would love it if you can all share this with your contacts in Kent/Surrey/Sussex/Essex who may have smallholdings, f
arms or stables.

We have a high quality copy of this poster which we can send to you to print out and display in local vets, pet food shops, at work etc- please just send an e-mail to [email protected]

--------------------------------

Lewisham Branch has 65 cats in care that are either feral or semi-feral and are awaiting suitable outdoor homes.

We neuter and return as many feral cats as we can back to their original location but sometimes due to demolition, redevelopment , a dangerous location, no one to feed them or no shelter they have to be found new homes.

Many London feral cats have been previously living in back gardens but we do find offers of new 'garden' homes are few and far between. Most of our feral cats therefore find new rural homes at safe locations at farms, stables and smallholdings in Kent, Sussex, Surrey or Essex. For those that have been rescued from industrial locations in London it is wonderful to see how they enjoy their new country homes.

They do require feeding - just like any pet cat, but also act as an effective rodent deterrent - an attraction for most farms and stable yards! They also need access to dry shelter - a hay barn is ideal but beds and sleeping boxes can be provided in other outbuildings.

Our feral cats are all neutered and microchipped, we recommend worming them regularly - panacur worming granules in food every 3/4 months is the safest and easiest way. We also provide life long support should they become injured or ill and require catching to receive veterinary treatment at one of our veterinary clinics.

We initially deliver the cats, in pairs or family groups to their new homes in one of our purpose built relocation pens. They are kept in the holding pen for the first 3 weeks, this allows the cats time to settle in and 'bond' with their new surroundings before they are released.

These cats urgently need their freedom again and we need to make space to be able to help stray and feral cats that will need our help over the coming months.

Please help us to find homes for these feral cats by sharing our appeal with friends, colleagues, relatives, contacts who may have suitable premises for these cats. - Thank you!