Cat Action Trust 1977 - Leeds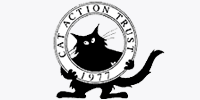 NEWSLETTER
Fri, 28 Feb 2014
PLEASE TAKE A LOOK AT OUR NEWSLETTER ABOUT OUR RESCUED CATS.
Our branch has many mouths to feed, including cats in residence and in foster homes. We also contribute to the feeding of those living on sites, and those who luckily have people who care for them. Some are even allowed when the weather is bad.
So, it came as a shock just before Christmas when we was told by a new manageress at Tesco to remove our collection bin from their store. To our great surprise, a different charity placed their bin on our old spot!
However, we were fortunate that another firm donated a lot of good quality pouches of cat food to us, which came in such quantities and with a comparatively close sell by date that we were able to share it with other rescues.
Due to continuing snow and ice during December and January, regular site feeding was diabolical because of the conditions of the roads. It was a struggle to feed the cats every night but we had to go because the cats needed food to survive. Unfortunately, one young ginger cat was not coping well. He was crying with pain because his feet were so cold that they kept sticking to the icy ground. I picked him up and brought him home. He was very poorly for about 2 weeks, but his feet has now healed and he is settled in well, joining the resident cats.
Unfortunately, cats are very fertile. In October, one cat was seen with two kittens in the basement of a shop, but disappeared from the area from the moment we had her kittens. Early in February, we rescued another kitten of hers in the same basement, but we did not see her again until she resurfaced with five tom cats in pursuit.
This was to be her last honeymoon, we caught her this time and had her neutered. Surprisingly, she is slowly calming down, revealing that she must at one time have been someone's pet. We are now looking for a suitable home.
Abandoned cats are becoming more and more of a problem. We are currently dealing with cats in stables and at a garden centre, as far away as Huddersfield, and the summer has not even started.
We are most grateful to everybody for helping us with their donations . Without them, all our work and feeding would not be possible.
Cat Action Trust 1977 Staff and Volunteers